MEDIA SOSIAL UNTUK PEMBELAJARAN DALAM MENDORONG DIGITALISASI PADA MASYARAKAT 5.0 BAGI MAHASISWA PEMBELAJARAN JARAK JAUH
Keywords:
Media Sosial, Pembelajaran Jarak Jauh, Masyarakat 5.0, Digitalisasi, Keahlian Bahasa Inggris
Abstract
Penggunaan media sosial untuk berbagai tujuan seharusnya lebih sederhana, lebih murah namun lebih bermanfaat. Penelitian ini mengkaji penggunaan media sosial untuk pembelajaran dengan mendorong digitalisasi pada masyarakat 5.0. Untuk pengumpulan data, kuesioner telah dibagikan secara luas dan dikirimkan ke mahasiswa pembelajaran jarak jauh melalui formular Microsoft Forms. Penelitian ini menggunakan metode gabungan dengan menggunakan metode kuantitaif untuk pengolahan data dan kualitatif untuk menganalisa hasil untuk mendapatkan temuan bagi pertanyaan penelitian sebagai berikut: (1) Bagaimana media sosial mendukung pembelajaran?, (2) Berapa lama dalam sehari orang saling terhubung melalui media sosial?, ( 3) Bagaimana media sosial mendukung masyarakat dalam mendorong digitalisasi?, (4) Bagaimana seharusnya pembelajaran yang dilakukan dalam digitalisasi menuju masyarakat 5.0. Penelitian ini terbatas pada lingkup perguruan tinggi pembelajaran jarak jauh dan seharusnya dapat diaplikasikan pada organisasi Pendidikan lainnya untuk penelitian selanjutnya.
Downloads
Download data is not yet available.
References
Akram, Waseem. (2018). A Study on Positive and Negative Effects of Social Media on Society. International Journal of Computer Sciences and Engineering. 5. 10.26438/ijcse/v5i10.351354.
Ardi, Zadrian & Sukmawati, Indah. (2019). The Contribution of Social Media and Mobile Application to Individual Subjective Well-Being in Counseling Perspective. Journal of Counseling and Educational Technology. 2. 10.32698/0571.
Batubara, Ismail & Nur, Kholidah & Lubis, Ali & Arianto, Nanang. (2021). The Effectiveness of Learning Using Social Media during the Covid 19 Pandemic in Higher Education. Budapest International Research and Critics Institute (BIRCI-Journal): Humanities and Social Sciences. 4. 2177-2183. 10.33258/birci.v4i2.1908.
Bella Lusiana, Rina Maryanti. (2020). The Effectiveness of Learning Media Used During Online Learning. DOI: https://doi.org/10.17509/boga.v9i2.38379
Corvello, V. Verteramo, S., · Nocella, I., · Ammirato, S. (2022). Thrive during a crisis: the role of digital technologies in fostering antifragility in small and medium‐sized enterprises. Journal of Ambient Intelligence and Humanized Computing https://doi.org/10.1007/s12652-022-03816-x
Coronado-Medina, Alejandro & Arias-Pérez, José & Perdomo, Geovanny. (2020). Fostering Product Innovation Through Digital Transformation and Absorptive Capacity. International Journal of Innovation and Technology Management. 17. 10.1142/S0219877020500406.
Carayannis, E. G., & Morawska-Jancelewicz, J. (2022). The Futures of Europe: Society 5.0 and Industry 5.0 as Driving Forces of Future Universities. Journal of the Knowledge Economy. https://doi.org/10.1007/s13132-021-00854-2
Damota, Mulugeta. (2019). The Effect of Social Media on Society.
Fukuyama, M. (2018). Society 5.0: Aiming for a New Human-centered Society - Japan's Science and Technology Policies for Addressing Global Social Challenges. Cover Story Collaborative Creation through Global R&D TRENDS in Hitachi Review, 66(6), 553–559.
Makki, Alaa & Omar Bali, Ahmed. (2021). The Use of Social Media as a Platform in Education: Ramifications of COVID-19 in Iraq. Academic Journal of Interdisciplinary Studies. 10. 394. 10.36941/ajis-2021-0093.
Pituła, B. (2021). The Teacher and the Idea of Society 5.0 – Initial Diagnosis of the Problem. Polish Political Science Yearbook, 50(1), 1–17. https://doi.org/10.15804/ppsy202107
Rwodzi, Christopher & De Jager, Lizette & Mpofu, Nhlanhla. (2020). The innovative use of social media for teaching English as a second language. The Journal for Transdisciplinary Research in Southern Africa. 16. 10.4102/td.v16i1.702.
Saripudin, D., Komalasari, K., & Anggraini, D. N. (2021). [z International Journal of Instruction, 14(2), 369-384. https://doi.org/10.29333/iji.2021.14221a
Spremic, Mario & Ivančić, Lucija & Vuksic, Vesna. (2020). Fostering Innovation and Value Creation Through Ecosystems: Case of Digital Business Models and Digital Platforms. 10.4018/978-1-7998-2799-3.ch002.
Suharto. (2022). Social Media as a Learning Media to Improve Digital Literacy and Creation. https://doi.org/10.2991/assehr.k.220601.062
Yohanna, A. (2020). The influence of social media on social interactions among students. Indonesian Journal of Social Sciences, 12(2), 34–48. https://doi.org/10.20473/ijss.v12i2.22907
Zboun, J.S. & Farrah, M. (2021). Students' perspectives of online language learning during corona pandemic: Benefits and challenges. Indonesian EFL Journal, 7(1), 13-20. https://doi.org/10.25134/ieflj.v7i1.3986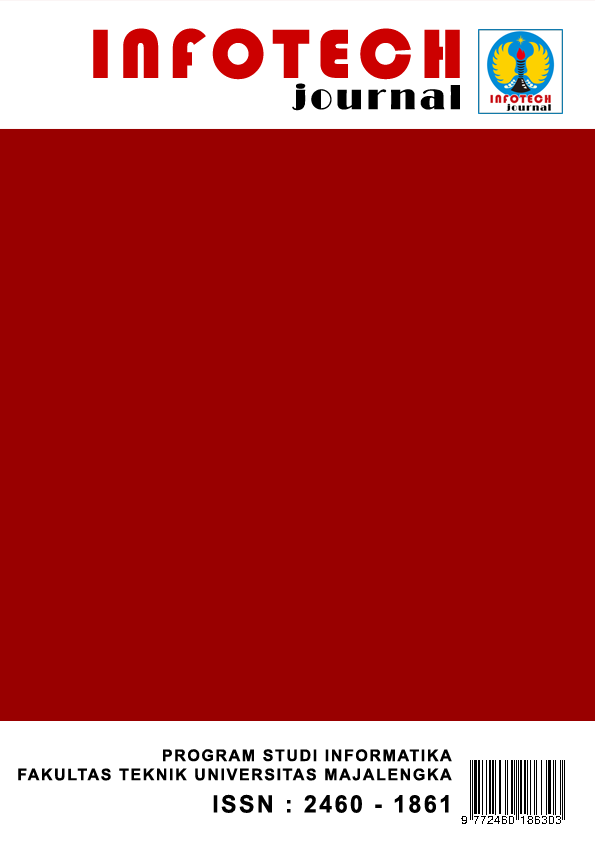 Downloads
How to Cite
Sela, S. T., & Paulina, C. (2023). MEDIA SOSIAL UNTUK PEMBELAJARAN DALAM MENDORONG DIGITALISASI PADA MASYARAKAT 5.0 BAGI MAHASISWA PEMBELAJARAN JARAK JAUH. INFOTECH Journal, 9(2), 604–609. https://doi.org/10.31949/infotech.v9i2.7332
License
Copyright (c) 2023 Shiyrah Theosebes Sela, Christine Paulina
This work is licensed under a Creative Commons Attribution-ShareAlike 4.0 International License.