SISTEM INFORMASI PERAWATAN TANAMAN BERBASIS INTERNET OF THINGS DI TAMAN BALAD CIPARAY KABUPATEN BANDUNG
Keywords:
Arduino, Information Systems, Plant Care, Internet of Things, ESP8266
Abstract
Most people in Indonesia usually have plants at their homes, places of business and so on. Balad is a place of business, which has a minimalist garden on the second floor. The limited land owned by Balad has made business owners take advantage of the existing land conditions to raise crops on a small scale. The garden is usually planted with a variety of plants to beautify and make the gardens in Balad cool. Plants grown by business owners in order to grow properly must have adequate water consumption and adequate lighting. The provision of water or watering and lighting to plants is one of the important things to keep the plants alive. Seeing this condition, business owners must do regular watering so that these plants get sufficient water consumption.
Nowadays everyone has their own preferences, the same applies to business owners in Balad, so that sometimes they are forgotten to care for plants due to limited time. Information systems on plant care based on the Internet of Things help in collecting information related to conditions such as humidity, temperature, soil fertility, and plant inspection that can be controlled via a smartphone using the internet network. Internet of Things makes use of plant owners to connect with their residence or place of business from anywhere and anytime. The remote sensor structure using Microcontroller ESP8266 is used to monitor the condition of plants in the Balad park, of course, to see conditions remotely. Designing Plant Care Information Systems based on the Internet of Things, can reduce costs and update productivity standards in maintaining small-scale plants and if needed can be developed on a large scale
Downloads
Download data is not yet available.
References
Laudon, C., Kenneth & Jane P. Laudon. 2014. "Management Information System 13th Edition" ISBN: 978-0-13-305069-1. Published by Pearson Education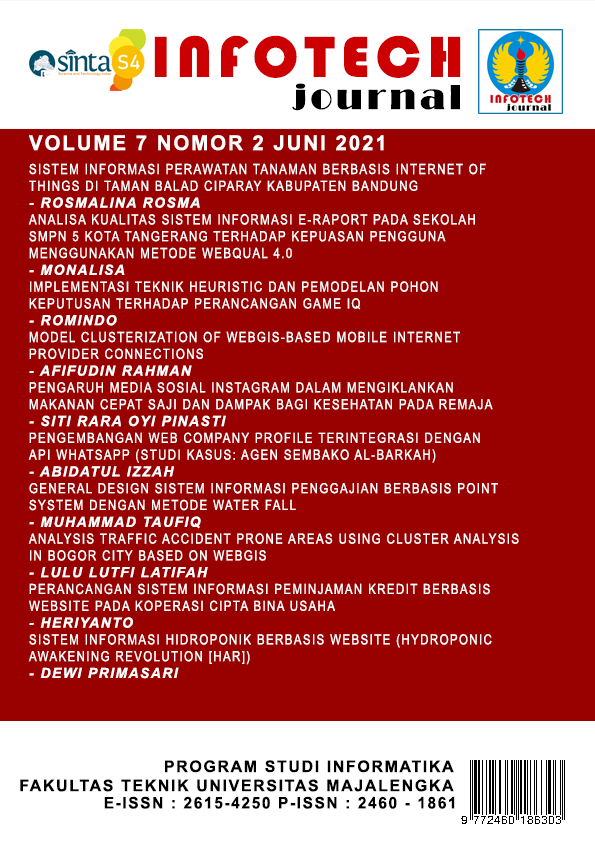 Downloads
How to Cite
rosma, rosmalina, Yaya Suharya, & Megantari Suhendar. (2021). SISTEM INFORMASI PERAWATAN TANAMAN BERBASIS INTERNET OF THINGS DI TAMAN BALAD CIPARAY KABUPATEN BANDUNG. INFOTECH Journal, 7(1), 1–9. https://doi.org/10.31949/infotech.v7i1.862