PENGEMBANGAN WEB COMPANY PROFILE TERINTEGRASI DENGAN API WHATSAPP (STUDI KASUS: AGEN SEMBAKO AL-BARKAH)
Keywords:
Company Profile, Software Development, Website, WhatsApp
Abstract
Today, in the era of Marketing 5.0, sell business using technology are highly recommended. The owner of the Al-Barkah groceries agent in Kediri-East Java is one of the entrepreneurs who use social media information technology such WhatsApp. However, the problems encountered is the limited feature of stories on WhatsApp so that it cannot optimally accommodate wider marketing to the public. Therefore, it is a needed a media that can store information on Al-Barkah products and also can be seen without a duration of time. This media is also expected to be connected with WhatsApp that has been used for marketing before. Thus, this study aims to develop a website containing business information or what is popular as a Company Profile. Furthermore, it is also integrated with WhatsApp social media. Then, system development stages start from system requirements analysis, design, implementation in programming, and system testing. The result of this research is a company profile web-based that has been tested according to the designed functional requirements.
Downloads
Download data is not yet available.
References
Aprilia, Sendy. 2020. "Sistem Informasi Absensi Berbasis Website Menggunakan API WhatsApp Dengan Metodologi Incremental (Studi Kasus: SMP Negeri 29 Pekanbaru)." Journal of Applied Informatics and Computing 4(1): 38–44.
Ismawari, Afrida, Br Sitepu1, Dahri Yani, and Hakim Tanjung2. 2020. "Rancang Bangun Aplikasi Pemesanan Dan Penjualan Berbasis Web Dan Android Pada Toko YT. Wall Interior." Jurnal FTIK 1(1): 816–28. http://e-journal.potensi-utama.ac.id/ojs/index.php/FTIK/article/view/927.
Mashud, and Wisda. 2019. "Aplikasi Chatbot Berbasis Website Sebagai Virtual." : 99–107.
Pertiwi, Wahyunanda Kusuma. 2020. "WhatsApp Tembus 2 Miliar Pengguna." KOMPAS.com. https://tekno.kompas.com/read/2020/02/13/18190017/whatsapp-tembus-2-miliar-pengguna.
T. R. Wulansari, W. I. Rahayu, N. Riza. 2019. "Aplikasi Pemesanan Bahan Bakar Minyak Melalui Media Whatsapp Menggunakan Algoritma Whatsapp Gateway (Studi Kasus: Pt. Pertamina Patra Niaga)." Jurnal Teknik Informatika 11(2): 1–6.
Uly, Yohana Artha. 2021. "Pentingnya Perusahaan Gunakan Teknologi Untuk Dorong Pemasaran." KOMPAS.com. https://money.kompas.com/read/2021/02/25/184832926/pentingnya-perusahaan-gunakan-teknologi-untuk-dorong-pemasaran.
Wardani, Agustin Setyo. 2019. "83 Persen Pengguna Internet Indonesia Pakai WhatsApp - Tekno Liputan6.Com." Liputan6.Com. https://www.liputan6.com/tekno/read/4113678/83-persen-pengguna-internet-indonesia-pakai-whatsapp.
"WhatsApp."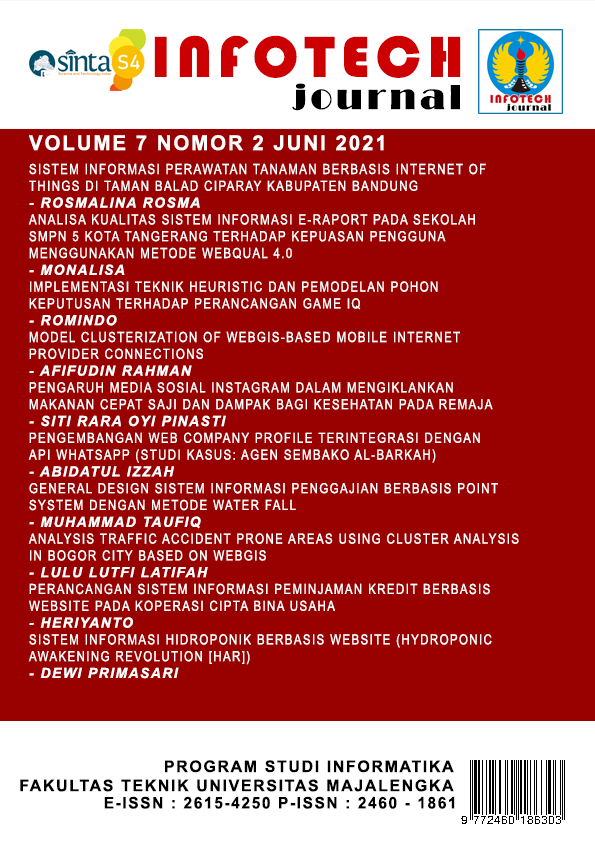 Downloads
How to Cite
Abidatul Izzah. (2021). PENGEMBANGAN WEB COMPANY PROFILE TERINTEGRASI DENGAN API WHATSAPP (STUDI KASUS: AGEN SEMBAKO AL-BARKAH) . INFOTECH Journal, 7(1), 40–44. https://doi.org/10.31949/infotech.v7i1.1067