APLIKASI E-COMMERCE PADA TOKO ISC EXHAUST BERBASIS ANDROID
Keywords:
android, aplikasi e-commerce, E-Commerce, metode pengembangan waterfall, midtrans
Abstract
Pemanfaatan smartphone dan internet telah mempengaruhi bisnis dengan perkembangan teknologi informasi dan komunikasi. E-commerce menjadi hal penting dalam perekonomian karena memperluas jangkauan pasar, menarik investor, dan mempermudah evaluasi bisnis. Meskipun demikian, toko ISC EXHAUST dalam penjualan otomotif belum sepenuhnya menggunakan potensi smartphone dan internet untuk e-commerce, yang mengakibatkan keterbatasan dalam penyampaian informasi produk, promosi, dan pembayaran. Oleh karena itu, tujuan penelitian ini adalah mengembangkan aplikasi e-commerce berbasis Android untuk toko ISC Exhaust yang dilengkapi fitur ongkir dan metode pembayaran midtrans menggunakan metode pengembangan waterfall. Hasil penelitian menunjukkan bahwa pengembangan aplikasi e-commerce dengan metode waterfall telah berhasil dalam menyampaikan informasi produk kepada konsumen, menyediakan estimasi biaya ongkir yang jelas, dan memfasilitasi transaksi yang aman dengan metode pembayaran midtrans. Penelitian ini memberikan manfaat penting bagi pengembang aplikasi e-commerce pada toko ISC EXHAUST terutama dalam hal fitur ongkir dan metode pembayaran midtrans.
Downloads
Download data is not yet available.
References
Ayu, S., & Lahmi, A. (2020). Peran e-commerce terhadap perekonomian Indonesia selama pandemi Covid-19. Jurnal Kajian Manajemen Bisnis, 9(2), 114. https://doi.org/10.24036/jkmb.10994100
Damayanti, D., & Nirmalasari, N. (2019). Sistem Informasi Manajemen Penggajian dan Penilaian Kinerja Pegawai pada SMK Taman Siswa Lampung. Jurnal Teknologi Informasi Dan Ilmu Komputer, 6(4), 389. https://doi.org/10.25126/jtiik.2019641003
Developer Training Team, G. (2019). Android Developer Fundamentals Course-Concept Reference. CIRED - Open Access Proceedings Journal, 2019, 6–457. Retrieved from http://www.eskom.co.za/CustomerCare/TariffsAndCharges/Documents/RSA Distribution Tariff Code Vers 6.pdf%0Ahttp://www.nersa.org.za/
Doglio, F. (2018). REST API Development with Node.js: Manage and Understand the Full Capabilities of Successful REST Development. Retrieved from https://isbnsearch.org/isbn/9781484237144
Effendy, Faried & Romindo, & Saputra, Didin & Iswahyudi, M. & muttaqin, muttaqin & Banjarnahor, Astri & Halim Perdana Kusuma, Aditya & Sulaiman, Oris & Simarmata, J. (2019). E-Commerce Implementasi, strategi & inovasinya. Yayasan Kita Menulis.
Himawan, H., & F., M. Y. (2020). Interface User Experince (Vol. 4). Yogyakarta: Lembaga Penelitian & Pengabdian Kepada Masyarakat Universitas Pembangunan Nasional "Veteran" Yogyakarta. Retrieved from http://marefateadyan.nashriyat.ir/node/150
Hradil, J., & Sklena, V. (2017). Practical implementation of 10 rules for writing REST APIs. Journal of Systems Integration, 1, 45–54. https://doi.org/10.20470/jsi.v8i1.290
Moroney, L. (2017). The Definitive Guide to Firebase (1st ed.). Apress Berkeley, CA. https://doi.org/https://doi.org/10.1007/978-1-4842-2943-9
Nisrina, Y. E., Putra, W. H. N., & Hanggara, B. T. (2019). Pengembangan E - Commerce Dengan Pemanfaatan Sistem Payment Gateway (Studi Kasus: Wisata Kampung Sapi Adventure). Jurnal Pengembangan Teknologi Informasi Dan Ilmu Komputer, Vol. 3(10), 9419–9425.
Pressman, R. S. (1983). Software engineering: A practitioner's approach. In Advances in Engineering Software (1978) (Vol. 5). https://doi.org/10.1016/0141-1195(83)90118-3
Sharma, R. (2021). Android Application Development. In International Journal for Research in Applied Science and Engineering Technology (Vol. 9). https://doi.org/10.22214/ijraset.2021.35425
Solichin, A. (2016). Pemrograman Web dengan PHP dan MySQL. Universitas Budi Luhur, 120. Retrieved from https://books.google.co.id/books?id=kcD4BQAAQBAJ&printsec=frontcover&dq=aplikasi+berbasis+web+dengan&hl=id&sa=X&ved=0ahUKEwib-fT80ITYAhVBrI8KHT9GD6QQ6AEIJzAA#v=onepage&q=aplikasi berbasis web dengan&f=false
Supardi, J., & Dores, V. (2009). Rancang Bangun Collaborative System Pemasaran Hotel Secara on-Line Dengan Pendekatan Mediator Based. Jurnal Sistem Informasi (JSI), 1(2), 55–61. Retrieved from http://ejournal.unsri.ac.id/index.php/jsi/index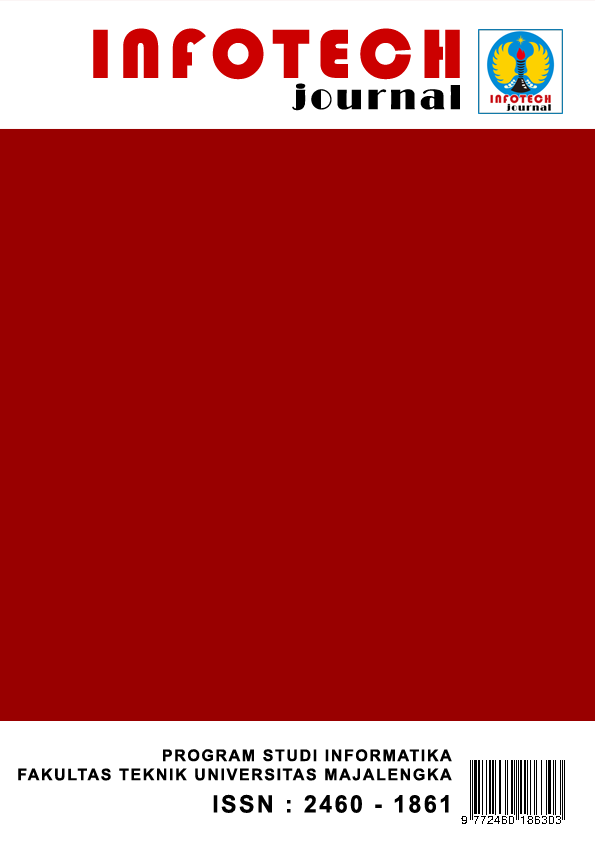 Downloads
How to Cite
Fajri, H., Berlina Wulandari, & Al Farizi, M. D. (2023). APLIKASI E-COMMERCE PADA TOKO ISC EXHAUST BERBASIS ANDROID. INFOTECH Journal, 9(2), 538–548. https://doi.org/10.31949/infotech.v9i2.6854
License
Copyright (c) 2023 Hersanto Fajri, Berlina Wulandari, Muhammad Daffan Al Farizi
This work is licensed under a Creative Commons Attribution-ShareAlike 4.0 International License.