GENERAL DESIGN SISTEM INFORMASI PENGGAJIAN BERBASIS POINT SYSTEM DENGAN METODE WATER FALL
Keywords:
Penggajian, point system, Transparan, Akuntabel, Sistem Informasi
Abstract
Starting from problems that often arise in a company or agency regarding the payroll system, whether it is in the form of errors in salary management, calculation methods or patterns of determining the amount of employee salaries, resulting in a work atmosphere that is less conducive and less harmonious between employees in the management environment, as a result it occurs. decrease in employee motivation (demotivation), with the number of complaints, lethargy and suspicion of employees, both in functional and structural relationships. This kind of condition will have a direct impact on morale which can have fatal consequences for the company's continuity. For It, For It, For It Is The Expedors, About Transparent and Accountable Payroll System. Transparent in the sense that it is wide open based on the method of determining or calculating the salary of each employee based on a standardized formulation, where everything will be computerized based on an appropriate point system. The accountable means being accountable for the results obtained in an Information Technology-based payroll information system.
Downloads
Download data is not yet available.
References
Ardianto Moenir, Fajar Yuliyanto. Perancangan Sistem Informasi Penggajian Berbasis Web Dengan Metode Waterfall Pada Pt. Sinar Metrindo Perkasa (Simetri). Jurnal Informatika Universitas Pamulang, Vol. 2, No. 3, September 2017, http://openjournal.unpam.ac.id/index.php/informatika/article/view/1237
Heidjrachman R. Drs., "Evaluasi Jabatan", Bagian Penerbitan Fakultas Ekonomi UGM, Yogyakarta
Heidjrachman R. Drs., "Manajemen Personalia", Bagian Penerbitan Fakultas Ekonomi UGM, Yogyakarta, 1992
Handoko, Flippo dkk. Sistem Informasi dan Konsep Penggajian Karyawan.Yogyakarta: Graha Ilmu,2012
Husnan.Konsep Perancangan Sistem Absensi dan Penggajian.Jakarta: PenerbitWidya Guna, 1996
Hani Puti Raisa, Ricki Sastra, and Nu'man Musyaffa, "Penerapan Metode Waterfall Pada Sistem Informasi Wedding Organizer Lili Vicky Decoration," J. Khatulistiwa Inform., vol. 6, no. 2, 2018. https://core.ac.uk/download/pdf/296255121.pdf
Muniarto, Rancang Bangun Sistem Informasi Penggajian karyawan Pada Koperasi Anging Mammiri Makassar Berbasis Web, Skripsi, Fakultas Sains Dan Teknologi, UIN Alauddin Makassar, 2017 http://repositori.uin-alauddin.ac.id/9221/1/MUNIARTO.pdf
Setiawan Dimas, Contoh Program Java Menghitung Gaji Karyawan, Kelas Programmer, Maret 26, 2020, https://kelasprogrammer.com/contoh-program-java-menghitung-gaji-karyawan/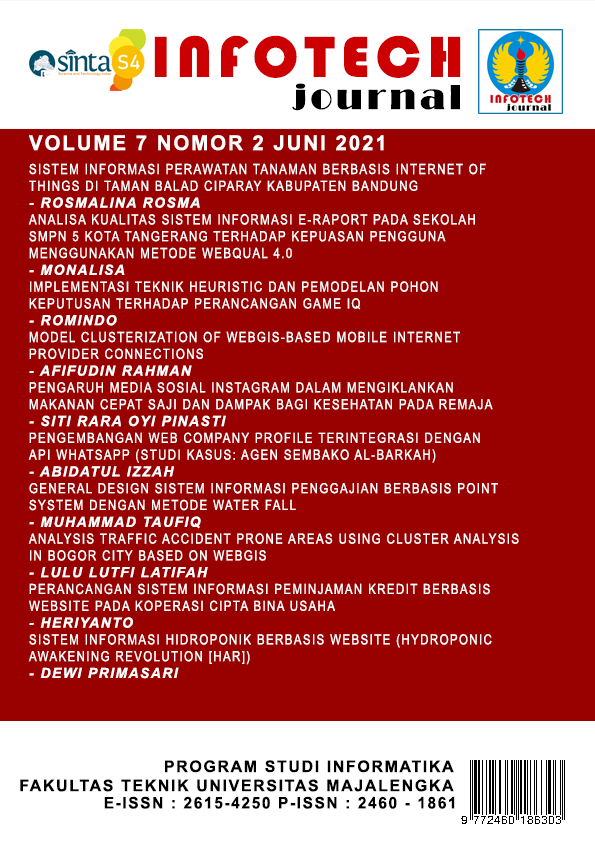 Downloads
How to Cite
Taufiq, M., Sarmidi, Riki, C., Hudha Anggarasari, N., Afifah, I., Nur Ambiya, U., Muhammad Nur Waffi, D. ., & Aminullah, R. . (2021). GENERAL DESIGN SISTEM INFORMASI PENGGAJIAN BERBASIS POINT SYSTEM DENGAN METODE WATER FALL . INFOTECH Journal, 7(1), 45–54. https://doi.org/10.31949/infotech.v7i1.1068