Assessment of Knowledge and Physical Activity Pattern of Civil Servants in Ilorin South Local Government, Kwara State, Nigeria
Adewale Adeoye

University of Ilorin

Yusuf Naimat Aderonke

Federal College of Education (Technical), Gusau, Zamfara State, Nigeria

Abubakar Nurudeen Ojo

Kogi State University, Anyingba, Kogi State, Nigeria
Keywords:
Regular Physical Activity, Physical Activity Pattern, Civil Servant, Participation
Abstract
If regular physical activity can be packaged into a pill, it will be the commonest drug on the counter. Therefore, this study assessed the knowledge and physical activity pattern of civil servants in Ilorin south Local Government, Kwara State, Nigeria. Descriptive research design of survey method was used for this study. The population for this study comprised civil servants in Ilorin South Local Government, Kwara State, Nigeria. Multi-stage probability sampling technique was conducted to select 259 respondents. Adapted GPAQ was used as instrument for data collection. The instrument was validated and tested for reliability. A correlation co-efficient of 0.84 was obtained through test re-test method using Pearson Product Moment Correlation. Socio-demographic data of the respondents was analysed using descriptive statistics of frequency, percentage, mean and standard deviation and to answer the research questions; inferential statistics of Pearson's Product Movement Correlation (PPMC), One-way Analysis of variance (ANOVA) and independent sample t-test were used to test the null hypotheses at 0.05 significance. It was concluded in the study that there is significant relationship on Knowledge and pattern of physical activity of civil servants in Ilorin South Local Government Kwara State among others. Recommendation this study; experts in the field of physical activity and fitness in conjunction with the management of various ministries and commissions in the study locale should organise workshops and seminars to improve the knowledge of the civil servants on the benefits of regular participation in physical activity. Also, an official hour should be earmarked for staff to encourage participation by all.
Downloads
Download data is not yet available.
References
Abegunde, D.O, Mathers C.D, Adam, T, Ortegon,M, Strong, K. The burden and costs of chronic diseases in low-income and middle-income countries. Lancet. 2007; 370(9603): 1929-38.

Adewale, L. O, Adetoyeje,Y. O, Babatunji, A. O, Aliyu, L, Kingsley, K. A, Rufus, A. Andrea, R. (2018). Physical activity profile of Nigeria: implications for research, surveillance and policy. The Pan African Medical Journal.; 30:175. doi:10.11604/pamj.2018.30.175.12679

Arongbonlo, S. (2007). The Rescue Mission of Physical Activities to Heart Conditions and Related Health Problems among the Nigerian populace. Journal of sports management and educational Research, 1(3).

Dipietro, L. Physical activity in aging: changes in patterns and their relationship to healthy and function. Journal of Gerentolology A: Biol. Sci.Med. Sci. 56A:12–22, 2001.

Isaac, A, Oladele, V. A, Olufunmilayo, F. M, Daniel, T. G, Anthony, I. A. & Eyitayo, O.O. (2017). Pattern and correlates of obesity among public service workers in Ondo State, Nigeria: a cross-sectional study, South African Family Practice, 59:6, 195-200, DOI: 10.1080/20786190.2017.1333784

Pratt M, Ramirez, A, Martins, R, Bauman A, Heath, G, Kohl 3rd H, et al. 127 Steps toward a more active World. Journal of Physical Activity and Health; 12(9): 1193-4.
Psychology & Health, 32:8, 942-975, DOI: 10.1080/08870446.2017.1325486

Quintiliani, Sattelmair & Sorensen (2008), The workplace offers several advantages for promoting physical activity in that a substantial number of the working population can be reached and multiple levels of influence on behaviour can be targeted review of the evidence for Canada's physical activity guidelines for adults. International Journal of Behavioural Nutrition and Physical Activity, 7, 39. doi:10.1186/1479-5868-7-39

Roemmich et al., 2007; people live in a community with more sidewalks, greater number of parks and more connecting streets this greater access to physical activity may positively impact of people participation in physical activity Sci.Med. Sci. 56A:12–22, 2001.

Ryan E. Rhodes, Ian Janssen, Shannon S.D. Bredin, Darren E.R. Warburton & Adrian Bauman (2017). Physical activity: Health impact, prevalence, correlates and interventions,

United Nations, Department of Economic and Social Affairs, Population Division (2015). World Population Prospects: The 2015 Revision, Key Findings and Advance Tables. Working Paper No. ESA/P/WP.241

Warburton, D. E. R., Taunton, J., Bredin, S. S. D., & Isserow, S. (2016). The risk-benefit paradox of exercise. BC Medical Association Journal, 58, 210–218.

Warburton, D. E., Charlesworth, S., Ivey, A., Nettlefold, L., & Bredin, S. S. (2010). A systematic

WHO Press. World Health Organization, (2012). "Young and physically active: A blueprint for making physical activity appealing to youth." In.http://www.euro.who.into/ data/assets/PDF file/0005/175325/e96697.pdf?UA=1.

World Health Organization - Noncommunicable Diseases (NCD) Country Profiles, 2018.

World Health Organization (2014) Global Status Report on non-communicable disease 2014. Geneva: World Health Organization (WHO) (2010). Global recommendations on physical activity for health. Geneval, Switzerland:

World Health Organization (2014) Global Status Report on non-communicable disease 2014. Geneva: World Health Organization (WHO).

World Health Organization (2014). Global status report on noncommunicable diseases Geneva.;Switzerland. World Health Organization. Global status report on noncommunicable diseases 2014, Geneva.

Wuest, D.A. and Butcher, C.A. (2006). Foundations of physical Education, Physical activity Science, and Sport 16th Ed. McGraw Hill Boston pp.21-23.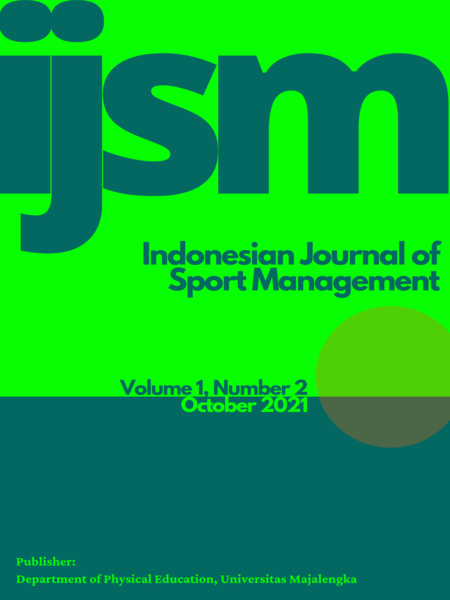 How to Cite
Adeoye, A., Aderonke, Y. N., & Ojo, A. N. (2021). Assessment of Knowledge and Physical Activity Pattern of Civil Servants in Ilorin South Local Government, Kwara State, Nigeria. Indonesian Journal of Sport Management, 1(2), 115-127. https://doi.org/10.31949/ijsm.v1i2.1129
Copyright (c) 2021 Adewale Adeoye, Yusuf Naimat Aderonke, Abubakar Nurudeen Ojo
This work is licensed under a Creative Commons Attribution-ShareAlike 4.0 International License.