Strategi Manajerial Penguatan Kepala Sekolah dalam Meningkatkan Kinerja Guru
Lina Syafarina

Universitas Islam Nusantara

E. Mulyasa

Nandang Koswara
Keywords:
managerial, principal, teacher performance
Abstract
Setiap lembaga pendidikan dituntut untuk memiliki personel atau sumber daya manusia yang profesional dan memiliki kompetensi manajerial. Karena tugas kepala sekolah yang cukup berat, maka pemerintah mengeluarkan kebijakan pemerintah yang mengatur regulasi pendidikan di Indonesia dengan dikeluarkannya sebuah peraturan, yaitu melalui Permendikbud Nomor 6 Tahun 2018 tentang Penugasan Guru sebagai Kepala Sekolah. Rendahnya profesionalisme kepala sekolah dan guru dapat disebabkan oleh beberapa hal, antara lain: (1) masih banyak kepala sekolah yang belum sepenuhnya menekuni profesinya, (2) kualifikasi akademik kepala sekolah belum memenuhi syarat, (3 ) kurangnya pelatihan bagi kepala sekolah dalam kemampuan manajerial, (4) kepala sekolah belum mengikuti program penguatan kepala sekolah. Penelitian ini menggunakan metode deskriptif dengan pendekatan kualitatif karena dalam pelaksanaannya meliputi interpretasi terhadap data yang telah terkumpul. Pelatihan penguatan kepala sekolah berdampak pada peningkatan kinerja guru, dimana strategi manajerial ini membantu kepala sekolah untuk merencanakan, mengatur, melaksanakan, dan memantau kinerja guru.
Downloads
Download data is not yet available.
References
Arikunto, S. (1998). Prosedur Penelitian Suatu Pendekatan Praktek. Jakarta: Rineka Cipta.
Depdiknas, Undang-undang RI no. 20 Tahun 2003. Sistem Pendidikan Nasional. Jakarta: Dirjen Dikdasmen.
Learning For Preparing Mulyasa, E. (2016). Improved Quality Management Based The Character Of Graduates In Respome To Globalization Era. International Journal of Education and Research Vol. 4 No. 11 November 2016. ISSN: 2411-5681. http://www.ijern.com/jourmal.
Moleong. (2005). Metodologi Penelitian Kualitatif. Bandung : PT. Remaja Rosda Karya.
Mulyasa, E. (2004). Manajemen Berbasis Sekolah: Konsep, Strategi, dan Implementasi. Bandung: PT. Remaja Rosdakarya.
Mulyasa, E. (2009). Standar Kompetensi dan Sertifikasi Guru. Bandung : PT. Remaja Rosdakarya.
Mulyasa, E. (2010). Penelitian Tindakan Sekolah. Bandung : PT.Remaja Rosdakarya.
Mulyasa, E. (2013). Menjadi Guru Profesional. Bandung : PT Remaja Rosdakarya.
Mulyasa, E., et.al. (2020). Continuous Quality-Instructional Improvement through Implementation of an Internal Quality Assurance System. Systematic Review Pharmacy Journal. Vol 11, Issue 3, 2020: 674-678. E-ISSN 0976-2779 P-ISSN 0975-8453. http://www.sysrevpharm.org/?mno=96341.
Mulyasa, H. E. and Wiwik Dyah Aryani. (2017). Developing Religious Culture In School. International Journal Of Scientific & Technology Research Volume 6, Issue 07, July 2017. ISSN 2277-8616. http://www.ijstr.org/final-printjuly2017/ Developing-Religious.-
Mulyasa, H. E., Andriana Gaffar, and Wiwik Dyah Aryani. (2018). Management Of Quality Assurance Of Higher Education Based On Self Evaluation. International Journal of Business and Management Invention (IJBMI). Volume 7 Issue 7 Ver. III, July. 2018. ISSN (Online): 2319-8028, ISSN (Print): 2319-801X. www.ijbmiorg.
Penulisan daftar pustaka menggunakan format American Psychological Association (APA) dan diurutkan berdasarkan abjad, tanpa nomor urut, dan tidak dipisah antara sumber buku, online, dan lainnya.
Peraturan Menteri Pendidikan dan Kebudayaan no. 6 tahun 2018: Tentang Penugasan Guru Sebagai Kepala Sekolah. Jakarta.
Peraturan Pemerintah Republik Indonesia Nomor 14 Tahun 2005 : Tentang Guru dan Dosen. Jakarta.
Wahyu Suryanti, Eni, 2014Pengembangan professional pimpinan pendidikan LIKHITA PRAJNA, jurnal ilmiah fakultas keguruan dan ilmu pendidikan UniversitasWisna Wardhana Malang vol 16, halaman 60 – 74, eny_ocoefs@yahoo.co.id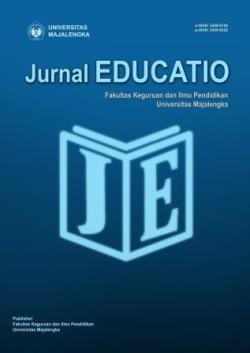 How to Cite
Syafarina, L., Mulyasa, E., & Koswara, N. (2021). Strategi Manajerial Penguatan Kepala Sekolah dalam Meningkatkan Kinerja Guru. Jurnal Educatio FKIP UNMA, 7(4), 2036-2043. https://doi.org/10.31949/educatio.v7i4.1250
Copyright (c) 2021 Lina Syafarina, E. Mulyasa, Nandang Koswara
This work is licensed under a Creative Commons Attribution-ShareAlike 4.0 International License.
An author who publishes in the Jurnal Educatio FKIP UNMA agrees to the following terms:
Author retains the copyright and grants the journal the right of first publication of the work simultaneously licensed under the Creative Commons Attribution-ShareAlike 4.0 License that allows others to share the work with an acknowledgment of the work's authorship and initial publication in this journal
The author is able to enter into separate, additional contractual arrangements for the non-exclusive distribution of the journal's published version of the work (e.g., post it to an institutional repository or publish it in a book) with the acknowledgment of its initial publication in this journal.
The author is permitted and encouraged to post his/her work online (e.g., in institutional repositories or on their website) prior to and during the submission process, as it can lead to productive exchanges, as well as earlier and greater citation of the published work