About the Journal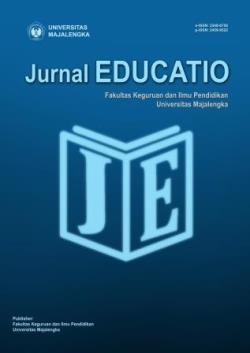 Jurnal Educatio, with registered numbers ISSN 2548-6756 (online) and 2459-9522 (print), is a scientific journal published by Universitas Majalengka. Jurnal Educatio has been published since 2015, started in 2016 published online. This Journal was first published at the beginning of 2015 twice per year in frequency in June and December. Since 2021, Jurnal Educatio has been published four times per year in March, June, September, and December. 
The purpose of this journal publication is to disseminate new theories and research results that have been achieved in the field of education. This publication is available online through open access. Jurnal Educatio aims to provide researchers with scholarly discourses, theories, research methods, and findings. Therefore, the journal accepts manuscripts related to all aspects of education. It is also keen to help make connections among researchers.
Jurnal Educatio is accredited by the Ministry of Research, Technology, and Higher Education Republic of Indonesia Number 85/M/KPT/2020. Accreditation is valid for five years, that is: from volume 4 no. 1, 2018, until volume 8 no. 2, 2022.
Jurnal Educatio has migrated from the former website at https://www.jurnal.unma.ac.id/index.php/edc
Jurnal Educatio has been covered by the following indexing and abstracting services: