PENGEMBANGAN PEMANASAN DENGAN GAME BAGI SISWA SMP
Keywords:
Warming up Sports, Game, Warming Modification, Pulse.
Abstract
ABSTRACT: The aim of this research is to develop warm-up games for junior high school students. The method used in this research is Reaserch and Development (RnD), with the development stage of problem analysis, heating design, heating testing, design revision, retrying, and final product. The instrument in this study used a pulse measurement test and a questionnaire. The data analysis used the eligibility formula for judges assessment, ANOVA analysis calculation, T Test and DN max calculation, namely 220 - age for student and student data. Subjects in the study, students as a small-scale trial amounted to 10 out of 9 boys and 1 girl with an average age of 20 years, the two junior high school students as a large-scale trial totaling 31 of 14 boys and 17 girls. From the three judges, the three games are 98% eligibility, which means that the assessment of the heating design is "Very Worthy" to try out. The results of the development of Game game modifications have three levels, namely the easy level of fun games, moderate levels of small games and difficult levels of big games and each level has a different intensity. The results of the first trial study students scored 60% to 75% in increasing their pulse rate to enter the Training Zone. The second trial of students scored a 60% to 75% increase in pulse rate to enter the Training Zone. That way, warming up with games can be used as an alternative to warming up before doing sports activities.
Downloads
Download data is not yet available.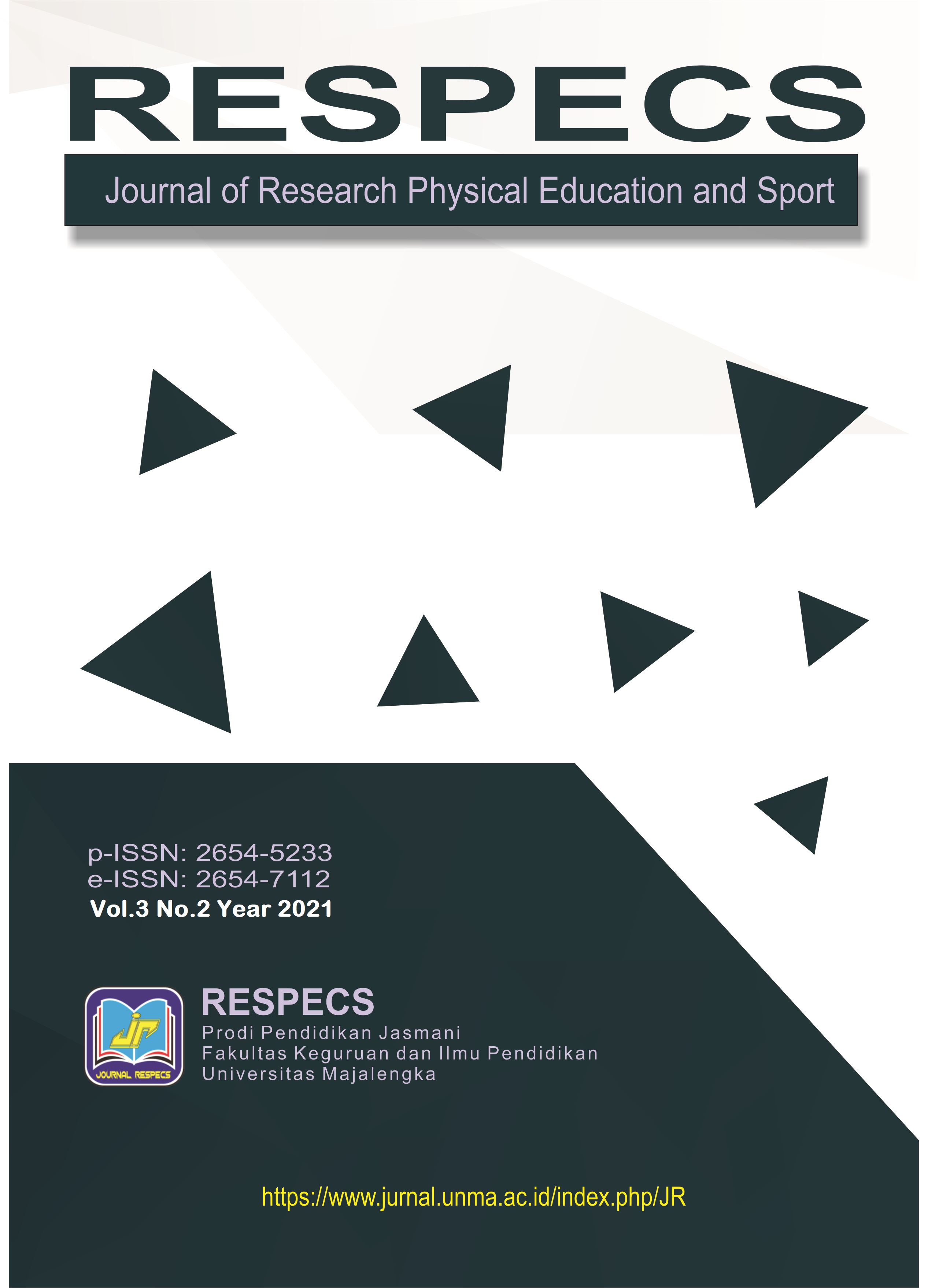 Downloads
How to Cite
Suhendra, A. F., Samodra, Y. T. J. ., & Gustian, U. . (2021). PENGEMBANGAN PEMANASAN DENGAN GAME BAGI SISWA SMP. JOURNAL RESPECS (Research Physical Education and Sports), 3(2), 32–44. https://doi.org/10.31949/respecs.v3i2.1037