Customer Satisfaction with Massage Service (Sport Personnel and General)
Keywords:
Customer, Satisfaction, Massage Service
Abstract
The problem in this study is how the level of customer service satisfaction for massage for sports / general practitioners. This study aims to see the level of customer satisfaction with massage services (sports and general practitioners) with variables 1. Reliability (reliability), 2. Responsiveness (responsiveness), 3. Assurance (assurance), 4. Empathy (empathy), 5. direct evidence (tangibles). Ex post facto quantitative descriptive research design for customers who had received massage services from October 2020 to February 2021. The instrument is in the form of a questionnaire in descriptive statistical analysis. The results of the research data concluded that the level of customer satisfaction in the very satisfied category was 91% and 7% satisfied.
Downloads
Download data is not yet available.
References
Arie Sulistyawati, N., & Seminari, N. (2015). Pengaruh Kualitas Pelayanan Terhadap Kepuasan Pelanggan Restoran Indus Ubud Gianyar. E-Jurnal Manajemen Universitas Udayana, v4, 8, 2318–2332.

Aryani, D., & Rosinta, F. (2010). Pengaruh kualitas layanan terhadap kepuasan pelanggan dalam membentuk loyalitas pelanggan. Jurnal Ilmu Administrasi Dan Organisasi, v17(2), 114–126.

Eliyawati, W., Sutjipta, N., Setiawan, I. G., Putra, A., Studi, P., Agribisnis, M., Pascasarjana, P., & Udayana, U. (2016). Kualitas Pelayanan dan Tingkat Kepuasan Anggota Koperasi Unit Desa Suraberata Kecamatan Selemadeg Barat The Quality of Service and The Level of Members Satisfaction of the Suraberata. Jurnal Manajemen Agribisnis (Journal Of Agribusiness Management), 4(1), 68–80.

Juliantri, V., Nurfianti, A., & Maulana, M. A. (2015). Efektivitas Massage Ekstremitas terhadap Perubahan Tekanan Darah pada Pasien Hipertensi di Klinik Pratama Universitas Tanjungpura Tahun 2015. Jurnal Cerebellum, v1, 3.

Lailia, N., Suryoko, S., & Saryadi, S. (2013). Pengaruh Kualitas Pelayanan, Harga Dan Nilai Pelanggan Terhadap Kepuasan Pelanggan Pengguna Jasa Servis Bengkel Ahass 0002 Semarang Honda Center. Jurnal Ilmu Administrasi Bisnis S1 Undip, v2, 1, 219–226.

Nopriansyah, N. (2015). Perubahan Kadar Laktat Darah Akibat Manipulasi Sport Massage pada Latihan Anaerob. Jurnal ilmiah penjas, 1(2), 271.

Normasari, S., Kumadji, S., & Kusumawati, A. (2013). Effect of Service Quality on Customer Satisfaction, Image Company and Customer Loyalty (Survey on
Customer Guests Staying at Hotel Pelangi Malang). Jurnal Administrasi Bisnis, 6(2), 1–9.

Nowo Tri Purnomo. (2015). Perubahan Kadar Laktat Darah Akibat Manipulasi Sport Massage pada Latihan Anaerob. Jurnal ilmiah penjas, 1(2), 271.

Park, J., Shim, J., Kim, S., Namgung, S., Ku, I., Cho, M., Lee, H., & Roh, H. (2017). Application of massage for ankle joint flexibility and balance. Journal of Physical Therapy Science. https://doi.org/10.1589/jpts.29.789

Priyambada, G., Raharja, A. T., & Putra, F. (2018). Persepsi dan minat pelatih olahraga sekolah khusus olahraga internasional terhadap sport massage Perception and interests of sports coaches of sekolah khusus olahraga internasional on sport massage. Jurnal Keolahragaan. https://doi.org/10.21831/jk.v6i1.21180

Putri, Y. L., & Utomo, H. (2017). Pengaruh Kualitas Pelayanan terhadap Loyalitas Pelanggan dengan Kepuasan sebagai Variabel Intervening (Studi Persepsi Pada Pelanggan Dian Compp Ambarawa). Among Makarti, v10(1).

Saputro, Y. A. (2017). Pengaruh Jenis Massage terhadap Kelelahan Atlet Bulutangkis Ditinjau dari Perbedaan Jenis Kelamin. Multilateral Jurnal Pendidikan Jasmani Dan Olahraga, 514–523. https://doi.org/10.20527/multilateral.v16i1.3661

Sukmawati, A. S., Pebriani, E., & Setiawan, A. A. (2018). Terapi Swedish Massage menurunkan tingkat kecemasan Lansia di Balai Pelayanan Sosial Tresna Wredha (BPSTW) Unit Budi Luhur Yogyakarta. Jurnal Ners Dan Kebidanan (Journal of Ners and Midwifery). https://doi.org/10.26699/jnk.v5i2.art.p117-122

Yanuar M, Andi Anshari B, A. (2018). Metode Sport Masase sebagai Pemulihanan Pasif dalam Peningkatan Kapasitas Daya Tahan Maksimal (Vo2max) Atlet Futsal IKIP Mataram. Jurnal Ilmu Sosial Dan Pendidikan, v2(3), 504.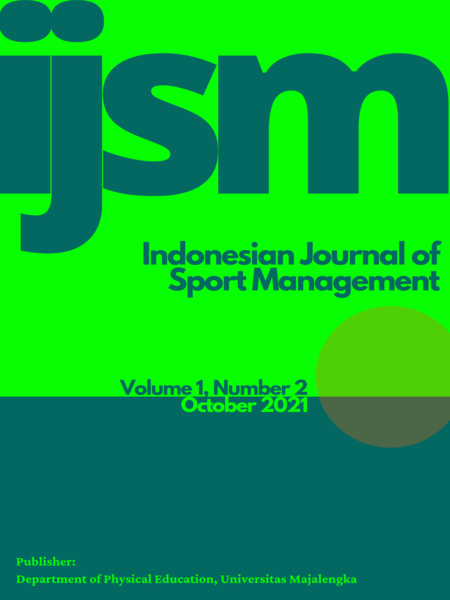 Downloads
How to Cite
Iskandar, Samudro, Y. T. J., & Gustian, U. . (2021). Customer Satisfaction with Massage Service (Sport Personnel and General). Indonesian Journal of Sport Management, 1(2), 109–114. https://doi.org/10.31949/ijsm.v1i2.1127
Section
RESEARCH ARTICLES