How Social Media Enforces Athlete Accountability in Sport?
Keywords:
accountability, social media, netnography, badminton, sport
Abstract
This study aims to explore how social media enforces athlete accountability through a case study in badminton. This study employed netnography and supported by interpretive approach to understand accountability process in the social media, Twitter. The object of this study is a badminton fanbase account namely Badminton Talk. The finding indicated that this badminton fanbase account in Twitter brings a complete component of accountability into social media. The process of accountability was presented by spreading information regarding the misconduct of Indonesian badminton athletes, posting a clarification video from an athlete, evaluating the athlete's explanation from the badminton fans, and followed by imposing sanctions for shortfalls in doing sport integrity. This study implies on enriching sport governance strategy to strengthening athlete accountability by using social media as it engages fans involvement.
Downloads
Download data is not yet available.
References
Carmona, S., & Ezzamel, M. (2007). Accounting and accountability in ancient civilizations: Mesopotamia and ancient Egypt. Accounting, Auditing & Accountability Journal, 20(2), 177–209. https://doi.org/10.1108/09513570710740993
Convery, I., & Cox, D. (2012). A Review of Research Ethics in Internet-Based Research. Practitioner Research in Higher Education, 6(1), 50–57.
DiPaolo, D. G. (2017). Leadership Education Is Not Enough: Advancing an Integrated Model of Student-Athlete Development. Journal of Leadership Education, 16(1), 216–229. https://doi.org/10.12806/v16/i1/i2
Ebrahim, A., & Weisband, E. (2007). Global accountabilities: Participation, pluralism, and public ethics. In Global Accountabilities: Participation, Pluralism, and Public Ethics. Cambridge University Press. https://doi.org/10.1017/CBO9780511490903
Freeman, R. E., Harrison, J. S., Wicks, A. C., Parmar, B., & de Colle, S. (2010). Stakeholder theory: The state of the art. In Stakeholder Theory: The State of the Art. https://doi.org/10.1017/CBO9780511815768
Gummesson, E. (2003). All research is interpretive! Journal of Business and Industrial Marketing, 18(6–7), 482–492. https://doi.org/10.1108/08858620310492365
Joubert, P., & Cloete, R. (2017). Accountability under the coach-athlete relationship in sport Study supervisor.
Kozinets, R. (2015). Redefining Netnography. In Netnography: Redefined (Issue 416). Sage Publication Ltd.
Kozinets, R. v. (2002). The field behind the screen: Using netnography for marketing research in online communities. Journal of Marketing Research, 39(1). https://doi.org/10.1509/jmkr.39.1.61.18935
Lee, J. W. (2020). Sport Teams, Fans, and Twitter: The Influence of Social Media on Relationships and Branding. International Journal of Sport Communication, 13(1). https://doi.org/10.1123/ijsc.2019-0115
Puschmann, C., Bruns, A., Mahrt, M., Weller, K., & Burgess, J. (2014). Epilogue: Why Study Twitter? Twitter and Society, 89, 425–432. https://eprints.qut.edu.au/66330/
Samson, A. B., & Oluwatoyin, I. M. (2021). Influence of Fan Behaviour on the Self-Esteem of Amateur Athletes in Kwara State, Nigeria. Indonesian Journal of Sport Management, 1(2), 90–100. https://doi.org/10.31949/ijsm.v1i2.1111
Saxton, G. D., & Guo, C. (2011). Accountability online: Understanding the web-based accountability practices of nonprofit organizations. Nonprofit and Voluntary Sector Quarterly, 40(2), 270–295. https://doi.org/10.1177/0899764009341086
Scott, S. v., & Orlikowski, W. J. (2012). Reconfiguring relations of accountability: Materialization of social media in the travel sector. Accounting, Organizations and Society, 37(1), 26–40. https://doi.org/10.1016/j.aos.2011.11.005
Stavros, C., Meng, M. D., Westberg, K., & Farrelly, F. (2014). Understanding fan motivation for interacting on social media. Sport Management Review, 17(4), 455–469. https://doi.org/10.1016/j.smr.2013.11.004
Sturge, K. (1997). Translation strategies in ethnography. Translator, 3(1). https://doi.org/10.1080/13556509.1997.10798986
Tonts, M. (2005). Competitive sport and social capital in rural Australia. Journal of Rural Studies, 21(2), 137–149. https://doi.org/10.1016/j.jrurstud.2005.03.001
Werner, O. (n.d.). ETHNOGRAPHY AND TRANSLATION l ISSUES AND CHALLENGES.
White, S., & Rezania, D. (2019). The impact of coaches' ethical leadership behaviour on athletes' voice and performance: The role of accountability. Sport, Business and Management: An International Journal, 9(5), 460–476. https://doi.org/10.1108/SBM-11-2017-0079
Yang, H. Z., & Liu, W. (2013). Analysis of the badminton match-throwing in london olympics. Procedia Computer Science, 17, 1222–1230. https://doi.org/10.1016/j.procs.2013.05.156
Zeelenberg, M., van Dijk, W. W., Manstead, A. S. R., & van der Pligt, J. (1998). The Experience of Regret and Disappointment. Cognition and Emotion, 12(2). https://doi.org/10.1080/026999398379727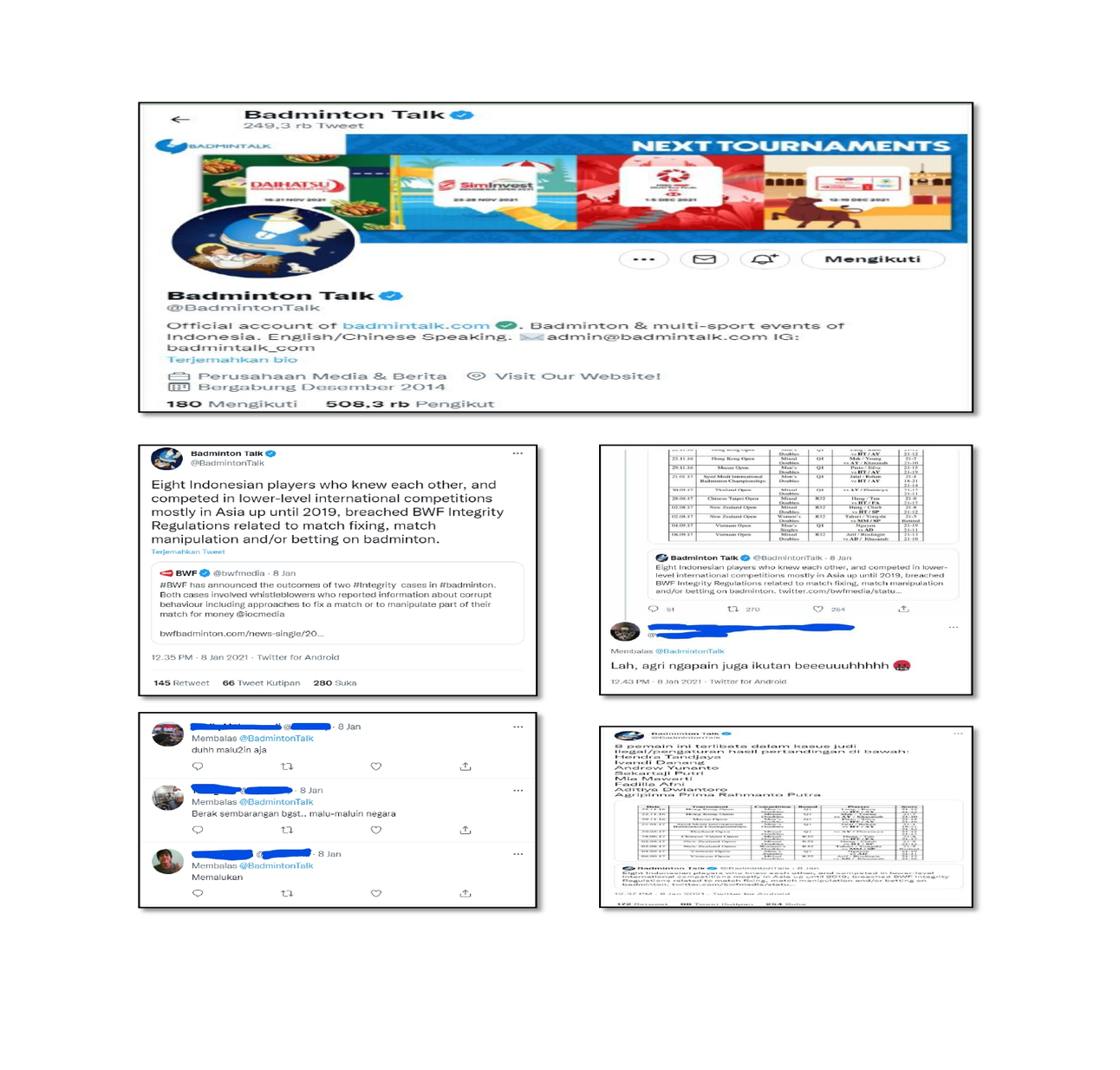 Downloads
How to Cite
Novan Bastian Dwi Ardha, Kurnia Eka Sari, & Ari Kamayanti. (2022). How Social Media Enforces Athlete Accountability in Sport?. Indonesian Journal of Sport Management, 2(2), 123–134. https://doi.org/10.31949/ijsm.v2i2.2842
Section
RESEARCH ARTICLES
License
Copyright (c) 2022 Novan Bastian Dwi Ardha, Kurnia Ekasari, Ari Kamayanti
This work is licensed under a Creative Commons Attribution-ShareAlike 4.0 International License.