The profile of buffalo farming in Matur District, Agam Regency, West Sumatra
Keywords:
buffalo productivity, raising management , technical aspects
Abstract
This research aimed to overview the buffalo farming business profile in Matur District and analyze its development problems. Data were obtained using the snowball sampling method by interviewing 148 buffalo farmers and observing their farming. The parameters measured were: 1) farmer demographics, 2) profile of buffalo farming business, and 3) buffalo farming practice. The results showed that the buffalo farming business in Matur District was 58.78% managed by farmers aged 25-54 years, and most of their education was elementary school (54.05%). The farmers were quite experienced in raising buffaloes (18.46 years), but the average ownership was low (1.80 heads or 0.81 Livestock Units). Most of the buffaloes' business system is a profit-sharing system (57.43%). The feed given to buffaloes was mostly natural grass (78.38%), the rearing system was carried out semi-intensively (69.59%) and intensively (30.41%), and only 54.73% of farmers provided buffalo houses. The main constraint in the buffalo farming business development in Matur District was poor farming practices, shown by the low level of technical aspects implementation (38.60%). Most buffalo mating system was natural system (96.39%). Stud limitation availability was the main constraint in buffalo reproductive management, which affected high mating costs (reached IDR 20,000-300,000/conception) and inbreeding cases (15%). Farmers' knowledge about diseases could have been higher, and the buffaloes never got vaccinated. In conclusion, the buffalo management system in Matur District was low, and thus improvement is necessary.
Downloads
Download data is not yet available.
References
Abdurrahman R. 2017. Respon fisiologis dan performa produksi kerbau lumpur betina pada ketinggian dan umur yang berbeda [Skripsi]. Bogor: IPB University.
Aggarwal A, Singh M. 2010. Hormonal changes in heat-stressed Murrah buffaloes under two different cooling systems. Buffalo Bulletin. 29(1):2–7.
Alma B. 2010. Kewirausahaan untuk mahasiswa dan umum. Bandung: Alfabeta.
Aprinaldi, Anggraini YL, Jiyanto J. 2021. Penerapan aspek teknis pemeliharaan kerbau di Kecamatan Pangean Kabupaten Kuantan Singingi. Journal of Animal Center (JAC). 3(2):93–101.
Ash'ari F, Luthfi L, Husaini M. 2020. Strategi Pengembangan Ternak Kerbau di Kabupaten Tanah Laut. Rawa Sains: Jurnal Sains STIPER Amuntai. 10(2):107–116.
Bezdíček J, Šubrt J, Filipčík R, Bjelka M, Dufek A. 2007. The effects of inbreeding on service period and pregnancy length in Holsteins and Czech Fleckviehs after the first calving. Arch Anim Breed. 50(5):455–463.
Bhakat C. 2020. Wallowing in Buffalo and summer management. IndiaRxiv. https://indiarxiv.org/juctz/. [diakses 8 Agus 2021].
Bhatti SA, Sarwar M, Khan MS, Hussain SMI. 2007. Reducing the age at first calving through nutritional manipulations in dairy buffaloes and cows: a review. Pak Vet J. 27(1):42.
BPS. 2018. Kabupaten Agam dalam Angka 2018. Lubuk Basung: Badan Pusat Statistik Kabupaten Agam.
BPS. 2019. Kabupaten Agam dalam Angka 2019. Lubuk Basung: Badang Pusat Statistik Kabupaten Agam.
BPS. 2020. Kabupaten Agam dalam Angka 2020. Lubuk Basung: Badan Pusat Statistik Kabupaten Agam.
BPS. 2021. Kabupaten Agam dalam Angka 2021. Lubuk Basung.
BPS. 2022a. Populasi Kerbau Menurut Provinsi. Badan Pusat Statisik. https://www.bps.go.id/indicator/24/471/7/populasi-kerbau-menurut-provinsi.html [Internet]. [accessed 2022 Jul 21]. https://www.bps.go.id/indicator/24/471/7/populasi-kerbau-menurut-provinsi.html
BPS. 2022b. Kabupaten Agam dalam Angka 2022. Lubuk Basung: Badang Pusat Statistik Kabupaten Agam 2022.
BPS. 2023. Kabupaten Agam dalam Angka 2023. Lubuk Basung: Badan Pusat Statistik Kabupaten Agam.
Deka R, Nath KC, Bhuyan M, Nath NC, Das GC, Das N, Deka N. 2019. Effect of nutritional supplementation on treatment of anoestrus swamp buffalo cows and heifers. Journal of Livestock Research. 9(2):55–63.
DITJENNAK. 1992. Pedoman Identifikasi Faktor Penentu Teknis Petenakan. Direktorat Jenderal Peternakan, Kementerian Pertanian RI. [place unknown].
Elizabeth R. 2017. Penguatan dan pengembangan ternak kerbau melalui pemberdayaan kelompok peternak dalam memenuhi kebutuhan konsumsi daging di Indonesia. Unes Journal Of Scientech Research. 2(1):38–52.
Habib MR, Haque MN, Rahman A, Aftabuzzaman M, Ali MM, Shahjahan M. 2017. Dairy buffalo production scenario in Bangladesh: a review. Asian Journal of Medical and Biological Research. 3(3):305–316. https://doi.org/10.3329/ajmbr.v3i3.34518
Hussein HA, Abdel-Raheem SM. 2013. Effect of feed intake restriction on reproductive performance and pregnancy rate in Egyptian buffalo heifers. Trop Anim Health Prod. 45(4):1001–1006.
Ibrahim RS, Hussin AM. 2017. Comparative histological study on the glands of skin in buffalo and cow. Diyala Journal of Agricultural Sciences. 9(3 Special):40–67.
Ikun A. 2018. Faktor–faktor yang mempengaruhi tingkat populasi ternak kerbau di Kecamatan Biboki Anleu Kabupaten Timor Tengah Utara. JAS. 3(3):38–42.
Khanum SA, Hussain M, Jabbar L, Kausar R, Cheema AM, Jabbar MA. 2012. Effect of concentrate supplementation on age at maturity in growing buffalo heifers. The Journal of Animal and Plant Sciences. 22(3 Suppl):329–331.
Lumbantoruan N, Tafsin M, Daulay AH. 2014. Hubungan Profil Peternak dengan Pendapatan Usaha Ternak Kerbau Lumpur di Kecamatan Lintong Nihuta Kabupaten Humbang Hasundutan: Relationship of Farmers Profile and Farmers Income of Buffalo in The District Lintong Nihuta Kabupaten Humbang Hasundutan. Jurnal Peternakan Integratif. 3(1):46–61.
Makatita J. 2021. Pengaruh Karakteristik Peternak Terhadap Perilaku Dalam Usaha Peternakan Sapi Potong Di Kabupaten Buru. Jago Tolis: Jurnal Agrokompleks Tolis. 1(2):51–54.
Mane PM, Gaikwad SM, Dhoble RL, Chaudhari RJ, Sawale AG, Suryawanshi PR, Dawane SC. 2016. Effect of mineral supplementation on involution, post-partum ovarian activity and conception rate in Marathwadi buffaloes. Buffalo Bulletin. 35(2):247–258.
Marawali HH. 2017. Perbaikan Manajemen Pemeliharaan Ternak Kerbau Untuk Meningkatkan Produktiviatas Menunjang Program M-P3MI.
Mberato Yunober, Hamsun M, Saloko F. 2016. Effect of non genetic factors on calving interval of swamp buffalo in Poso District, Indonesia. Aust J Basic Appl Sci. 10(4):187–192.
Mirhabibi S, Manafiazar GH, Qaravisi SH, Mahmoodi B. 2007. Inbreeding and its effect on some productive traits in buffaloes of South Iran. Ital J Anim Sci. 6(sup2):372–374.
Padmowihardjo S. 1978. Beberapa Konsepsi Proses Belajar dan Implikasinya. Bogor: Institut Pendidikan, Latihan dan Penyuluhan Pertanian.
Paige KN. 2010. The functional genomics of inbreeding depression: a new approach to an old problem. Bioscience. 60(4):267–277.
Perera B. 2011. Reproductive cycles of buffalo. Anim Reprod Sci. 124(3–4):194–199. https://doi.org/10.1016/j.anireprosci.2010.08.022
Putra AA, Marlida Y, Khasrad K, Azhike SYD, Wulandari R. 2011. Perkembangan dan usaha pengembangan dadih: sebuah review tentang susu fermentasi tradisional Minangkabau. Jurnal Peternakan Indonesia (Indonesian Journal of Animal Science). 13(3):159–170.
Putra RA, Rias MI, Madarisa F. 2021. Potret Usaha Peternakan Kerbau di Kabupaten Padang Pariaman. Jurnal Sains Peternakan. 9(2):79–86.
Rehman S ur, Feng T, Wu S, Luo X, Lei A, Luobu B, Hassan FU, Liu Q. 2021. Comparative Genomics, Evolutionary and Gene Regulatory Regions Analysis of Casein Gene Family in Bubalus bubalis. Front Genet. 12. https://doi.org/10.3389/fgene.2021.662609
Reswati R, Purwanto BP, Priyanto R, Manalu W, Arifiantini RI. 2021. Reproductive performance of female swamp buffalo in West Sumatra. In: IOP Conf Ser Earth Environ Sci [Internet]. Vol. 748. [place unknown]: IOP Publishing; p. 12025. https://iopscience.iop.org/article/10.1088/1755-1315/748/1/012025/pdf
Riyanti BPD. 2003. Kewirausahaan dari sudut pandang psikologi kepribadian. Jakarta: Grasindo.
Rizki. 2022. Penarapan aspek teknis pemeliharaan ternak kerbau lumpur di Kecamatan Pangean Kabupaten Kuantan Singingi [Thesis]. Riau: UIN Sultan Syarif Kasim.
Rusdiana S. 2014. Analisis Pendapatan Usaha Pertanian dan Peternakan Kerbau di Lombok, Nusa Tenggara Barat. Journal of Agriculture, Resource and Environmental Economics. 1(2):56–67.
Rusli R, Syahidin S. 2021. Karakteristik peternak dan strategi pengembangan ternak kerbau Gayo dengan Sistem Peruweren. Jurnal Ilmu dan Teknologi Peternakan. 9(2):81–89.
Santoso D. 2015. Analisis keuntungan perseduaan ternak kerbau di Kecamatan Koto Salak Kabupaten Dharmasraya [Thesis]. Padang: Universitas Andalas.
Sari EM, Abdullah MohdAN, Sulaiman S. 2015. Kajian Aspek Teknis Pemeliharaan Kerbau Lokal Di Kabupaten Gayo Lues. Fakultas Pertanian, Jurusan Pternakan, Universitas Syiah Kuala, Darussalam-Banda Aceh. Jurnal Agripet. 15(1):57. https://doi.org/10.17969/agripet.v15i1.2301
Sari UN, Ekasari RER. 2018. Potensi Kecamatan Matur Kabupaten Agam Menjadi Sebuah Desa Wisata. Jurnal Poli Bisnis. 7(1).
Seventri O, Mulyani S, Fridarti. 2018. Introduksi beberapa jenis leguminosa perdu dan pemberian pupuk urea terhadap produksi dan kualitas rumput lapangan. Jurnal Emrio. 10(1):1–14.
Sharma M, Bhatta SP. 2019. Reproductive traits evaluation of lime buffalo (Bubalus bubalis) in Western Hills of Nepal. Research & Reviews: Journal of Dairy Science and Technology. 7(3):31–36. https://doi.org/10.37591/rrjodst. v7i3.1375
Tejada JJ, Punzalan JRB. 2012. On the misuse of Slovin's formula. The philippine statistician. 61(1):129–136.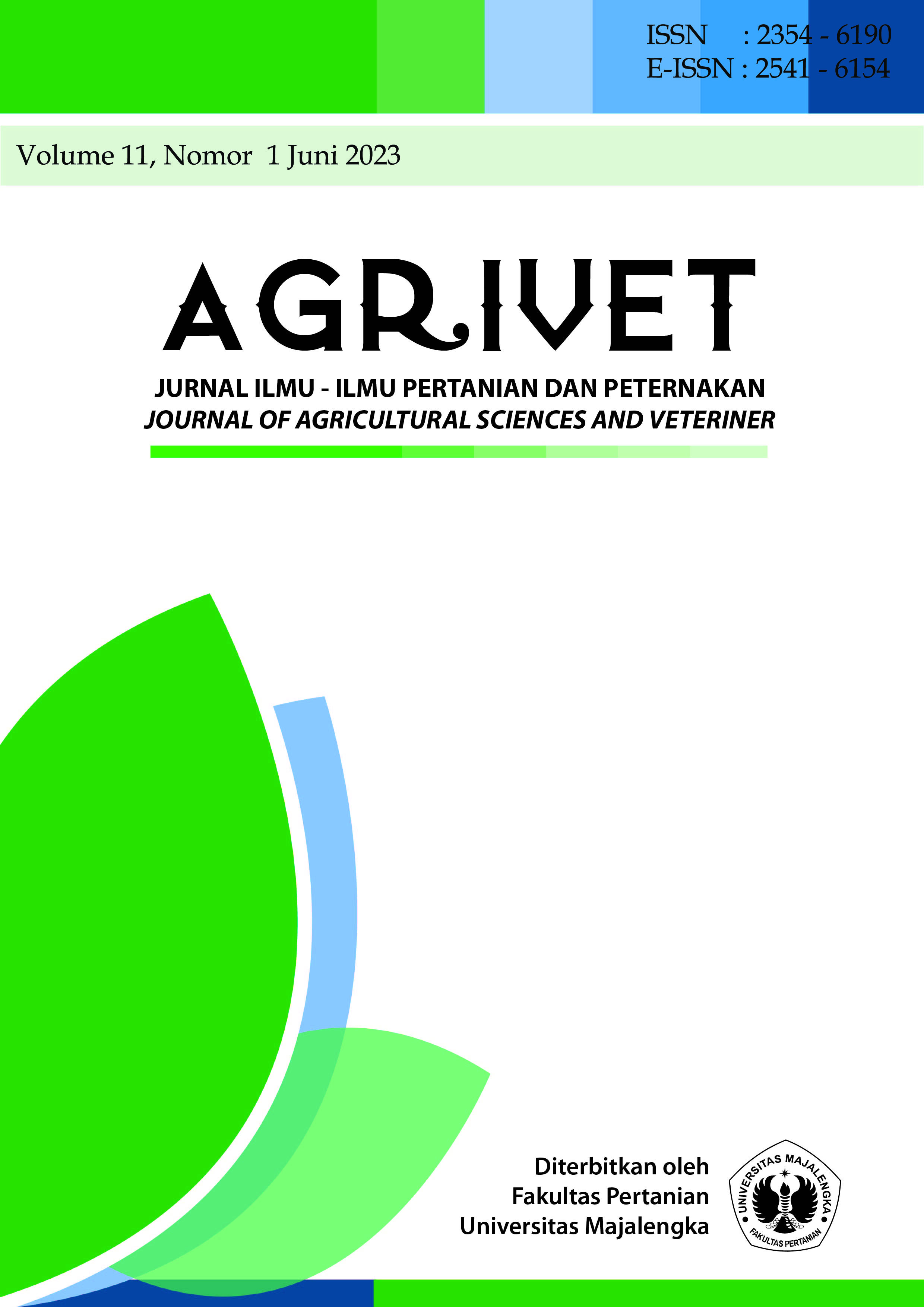 Downloads
How to Cite
Reswati, & Putra, A. A. (2023). The profile of buffalo farming in Matur District, Agam Regency, West Sumatra. Agrivet : Jurnal Ilmu-Ilmu Pertanian Dan Peternakan (Journal of Agricultural Sciences and Veteriner), 11(1), 97–106. https://doi.org/10.31949/agrivet.v11i1.5997
License
Copyright (c) 2023 reswati reswati, Aronal Arief Putra
This work is licensed under a Creative Commons Attribution-ShareAlike 4.0 International License.
An author who publishes in the Jurnal Agrivet agrees to the following terms:
Author retains the copyright and grants the journal the right of first publication of the work simultaneously licensed under the Creative Commons Attribution-ShareAlike 4.0 License that allows others to share the work with an acknowledgment of the work's authorship and initial publication in this journal
The author is able to enter into separate, additional contractual arrangements for the non-exclusive distribution of the journal's published version of the work (e.g., post it to an institutional repository or publish it in a book) with the acknowledgment of its initial publication in this journal.
The author is permitted and encouraged to post his/her work online (e.g., in institutional repositories or on their website) prior to and during the submission process, as it can lead to productive exchanges, as well as earlier and greater citation of the published work