Pengaruh pemberian kalsium terhadap perubahan karakter anatomi pelepah bibit kelapa sawit tercekam kekeringan
Keywords:
Anatomi, frond fracture, drought stress, calcium
Abstract
One of the environmental limiting factors on the growth and productivity of oil palm is drought stress. Various studies have shown that besides inhibiting the oil palm's physiological and biochemical processes, severe drought stress also causes morphological changes in the form of oil palm frond fractures. However, research related to calcium's role in increasing the oil palm seedling's resistance exposed to drought stress is still limited. This research was conducted to determine the calcium effect and drought stress on the frond anatomical character changes of oil palm seedlings. The study was conducted using a complete randomized block design consisting of two treatments with three replications. The first treatment is drought stress level: field capacity, moderate, and severe drought stress. The second treatment is calcium dose: 0, 50, 100, and 150%. The results showed that drought stress at moderate and severe levels decreased the length and width of epidermal, hypodermis thickness, phloem, and xylem diameter of oil palm frond seedlings. Supplying Ca at 0.08 g increased the cohesiveness and structural strength of frond tissue by increasing the length and width of epidermal tissue and phloem diameter.
Downloads
Download data is not yet available.
References
Blum A. 1996. Crop responses to drought and the interpretation of adaptation. In: Drought Tolerance in Higher Plants: Genetical, Physiological and Molecular Biological Analysis. [place unknown]: Springer Netherlands; p. 57–70. https://doi.org/10.1007/978-94-017-1299-6_8
Darlan NH. 2016. Effect of El Niño 2015 on Oil Palm Performance in Central and Southern Sumatra Oil palm plantation in high elevatiom View project Drought effects on oil palm plantation View project. Jurnal Tanah dan Iklim [Internet]. 40(2):35–42. https://doi.org/10.2017/jti.v40i2.3146
Direktorat Jenderal Perkebunan. 2020. Statistik Perkebunan Unggulan Nasional 2019-2021. [place unknown]: Kementerian Pertanian.
Dordas C. 2009. Foliar application of calcium and magnesium improves growth, yield, and essential oil yield of oregano (Origanum vulgare ssp. hirtum). Ind Crops Prod. 29(2–3):599–608. https://doi.org/10.1016/j.indcrop.2008.11.004
Easterwood D. 2002. Calcium's Role in Plant Nutrition. Fluid Journal.
Fichot R, Laurans F, Monclus R, Moreau A, Pilate G, Brignolas F. 2009. Xylem anatomy correlates with gas exchange, water-use efficiency and growth performance under contrasting water regimes: Evidence from Populus deltoides × Populus nigra hybrids. Tree Physiol. 29(12):1537–1549. https://doi.org/10.1093/treephys/tpp087
Hacke UG, Spicer R, Schreiber SG, Plavcová L. 2017. An ecophysiological and developmental perspective on variation in vessel diameter. Plant Cell Environ. 40(6):831–845. https://doi.org/10.1111/pce.12777
Kencana RR, Maryani M. 2022. Pengaruh Cekaman Air pada Masa Penanaman terhadap Anatomi dan Fungsi Xilem serta Waktu Pajang Bunga Potong Kenikir (Tagetes erecta L.). Vegetalika. 11(2):93. https://doi.org/10.22146/veg.71370
Kusumaningrum R. 2017. Peranan Xilem dan Floem dalam Pertumbuhan dan Perkembangan Tumbuhan. In: Prosiding Seminar Nasional Pendidikan Biologi dan Biologi Jurusan Pendidikan Biologi, Fakultas MIPA, Universitas Negeri Yogyakarta 2017. [place unknown].
Mostajeran A, Rahimi-Eichi V. 2009. Effects of Drought Stress on Growth and Yield of Rice (Oryza sativa L.) Cultivars and Accumulation of Proline and Soluble Sugars in Sheath and Blades of Their Different Ages Leaves. J Agric & Environ Sci. 5(2):264–272.
Naeem M, Khan MN, Khan MMA, Moinuddin M. 2013. Adverse effects of abiotic stresses on medicinal and aromatic plants and their alleviation by calcium. In: Plant Acclimation to Environmental Stress. [place unknown]: Springer New York; p. 101–146. https://doi.org/10.1007/978-1-4614-5001-6_5
Paterson RRM, Kumar L, Taylor S, Lima N. 2015. Future climate effects on suitability for growth of oil palms in Malaysia and Indonesia. Sci Rep. 5. https://doi.org/10.1038/srep14457
Potters G, Pasternak TP, Guisez Y, Jansen MAK. 2009. Different stresses, similar morphogenic responses: Integrating a plethora of pathways. Plant Cell Environ. 32(2):158–169. https://doi.org/10.1111/j.1365-3040.2008.01908.x
Ramadhaini, Sudrajat, Ade E. 2014. Ramadani - Optimasisasi dosisi pupuk NPK. Agronomi Indonesia. 42(1):52–58.
Ray JD, Sinclair TR. 1998. The effect of pot size on growth and transpiration of maize and soybean during water deficit stress. J Exp Bot [Internet]. 49(325):1381–1386. https://academic.oup.com/jxb/article/49/325/1381/506283
Song WY, Zhang Z Bin, Shao HB, Guo XL, Cao HX, Zhao H Bin, Fu ZY, Hu XJ. 2008. Relationship between calcium decoding elements and plant abiotic-stress resistance. Int J Biol Sci. 4(2):116–125. https://doi.org/10.7150/ijbs.4.116
Vasellati V, Oesterheld M, Medan D, Loreti J. 2001. Effects of flooding and drought on the anatomy of Paspalum dilatatum. Ann Bot. 88(3):355–360. https://doi.org/10.1006/anbo.2001.1469
Wirianata H, Manu Rohmiyati S, Suprih Wijayani dan. 2017. Faktor Penyebab Patah Pangkal Pelepah pada Tanaman Kelapa Sawit. In: Seminar Nasional Hasil Penelitian (SNHP)-VII ISBN 978-602-14020-5-4 Lembaga Penelitian Dan Pengabdian Kepada Masyarakat Universitas Pgri Semarang 26 Oktober 2017. [place unknown]: SNHP.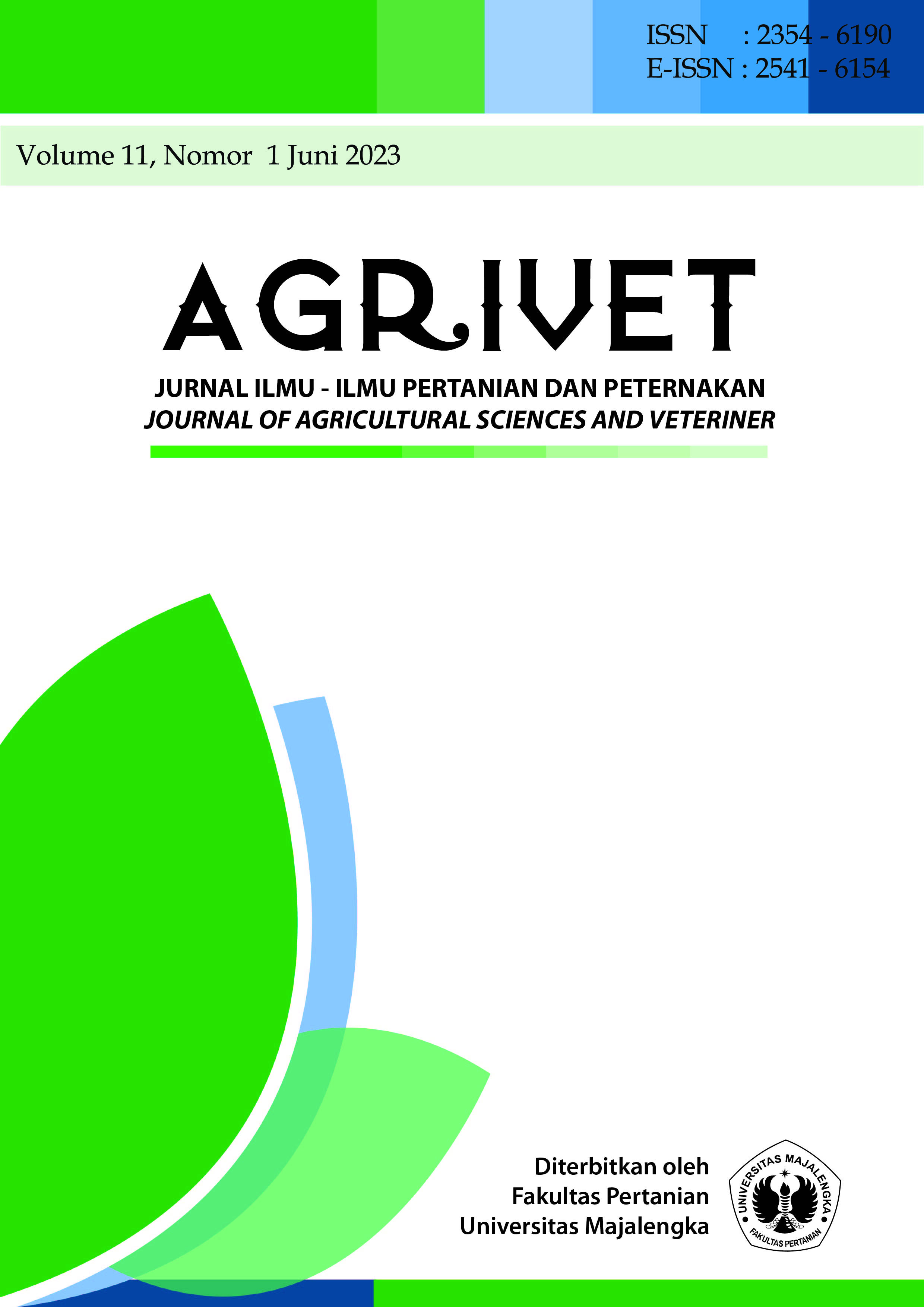 Downloads
How to Cite
Sari, N. Y., & Eka Tarwaca Susila Putra. (2023). Pengaruh pemberian kalsium terhadap perubahan karakter anatomi pelepah bibit kelapa sawit tercekam kekeringan. Agrivet : Jurnal Ilmu-Ilmu Pertanian Dan Peternakan (Journal of Agricultural Sciences and Veteriner), 11(1), 137–145. https://doi.org/10.31949/agrivet.v11i1.5737
License
Copyright (c) 2023 Novi Yulanda Sari, Eka Tarwaca Susila Putra
This work is licensed under a Creative Commons Attribution-ShareAlike 4.0 International License.
An author who publishes in the Jurnal Agrivet agrees to the following terms:
Author retains the copyright and grants the journal the right of first publication of the work simultaneously licensed under the Creative Commons Attribution-ShareAlike 4.0 License that allows others to share the work with an acknowledgment of the work's authorship and initial publication in this journal
The author is able to enter into separate, additional contractual arrangements for the non-exclusive distribution of the journal's published version of the work (e.g., post it to an institutional repository or publish it in a book) with the acknowledgment of its initial publication in this journal.
The author is permitted and encouraged to post his/her work online (e.g., in institutional repositories or on their website) prior to and during the submission process, as it can lead to productive exchanges, as well as earlier and greater citation of the published work