Performa Ayam Kampung Unggul Balitnak (KUB) dengan penambahan dedak fermentasi dalam ransum
Keywords:
Fermentation, performance, carcass, KUB chicken, Rice bran
Abstract
Kampung Unggul Balitnak (KUB) is a native chicken crossed for six generations. Rice bran is an energy source of feed, but rice bran has high crude fiber. The research was conducted in the poultry production cage of Sasa Village, South Ternate City. This study aimed to determine the percentage of fermented rice bran of performance of KUB Village chicken for meat production. The study used a Completely Randomized Design (CRD) consisting of five treatments and four replications. Data obtained were analyzed with Analysis of Variance (ANOVA) one way and further tests with Duncan Multiple Range Test (DMRT). The results showed that the ration consumption for all treatments (R0, R1, R2, R3, and R4) was not significantly different (p>0.05). The body weight gain, feed conversion, and carcass weight were not significantly different (p>0,05) between R0, R1, R2, and R3 treatments. However, the R4 treatment showed significant differences (p<0.05) from the other treatments. In conclusion, presenting a ration containing up to 30% fermented rice bran provides optimal results for the growth of KUB chicken to produce meat.
Downloads
Download data is not yet available.
References
Allama, H., Sofyan, O., Widodo, E., dan Prayogi, H.S. 2012. Pengaruh penggunaan tepung ulat kandang (Alphitobius diaperinus) dalam pakan terhadap penampilan produksi ayam pedaging. Jurnal Ilmu-Ilmu Peternakan. Vol. 22(3). Hal. 1-8
Gaspersz, V. 1995. Teknis Analisis Dalam Penelitian Percobaan Jilid I. Penerbit Tarsito Bandung. Hal. 62-111.
Fan, H.P., Xie M., Wang, W.W, Hou S.S & Huang, W.2008. Effect of dietary energy on growth performance and carcass quality of white growing pekin ducks from two to six weeks of age. Poult Sci. 86:2441-2449
Hasiib EA, Riyanti & Hartono M. 2015. Pengaruh Pemberian Ekstrak Daun Binahong (Anredera Cordifolia Ten) Dalam Air Minum Terhadap Peforma Broiler. Jurnal Ilmiah Peternakan Terpadu. 3(1): 14-22
Hanafi, N.D. Tafsi, M, Sitindaon, S.H. Sadeli, A, Simanungkalit, K. 2022. Pengaruh Penggunaan Bungkil Inti Sawit Taraf 40% dalam Ransum terhadap Bobot Potong, Karkas, Potongan Komersil Karkas dan Kualitas Daging Ayam SenSi-1 Agrinak. Jurnal Agripet. Vol. 22(1) : 62-71.
Hubulo, C., Saleh, E. J., & Djunu, S. S. (2022). Uji Performa Ayam Kampung Unggul Balitnak Menggunakan Formula Pakan Lumpur Sawit Terfermentasi. Jambura Journal of Animal Science, 4(2), 133–139.
Ryla, C., Riki, A.S., Nurchalidah, S., Virda, K.W., Arico, Z. 2017. Pengaruh Fortifikasi Minyak Ikan dan Tepung Daun Pepaya Terhadap Nilai FCR dan Laju Kematian Ayam Broiler. J. Jeumpa. Vol 4(1), Pp 1-10
Matitaputty, P.R., R.R. Noor, P.S. Hardjosworo, C. H. Wijaya, 2011. Performa, persentase karkas dan nilai heterosis itik alabio, cihateup dan hasil persilangannya pada umur delapan minggu. JITV. 16 (2): 90-97.
Nobo G, Moreki JC & Nsoso SJ 2012. Feed intake, body weight, average daily gain, feed conversion ratio and carcass characteristics of helmeted guinea fowl fed varying levels of phane meal (Imbrasia belina) as replacement of fishmeal under intensive system. International Journal of Poultry Science. 11(6): 378-384
Nawawi, N. T. dan Nurrohmah. 2011. Ransum Ayam Kampung. Penebar Swadaya. Jakarta
Nuraini, Napirah A, Hafid H, Astriana, Nasiu F, Libriani R, Yaddi Y, Elfia & Ananda SH 2020. Feed consumption, average daily gain and feed conversion of broiler chicken with different feed. IOP Conference Series: Earth and Environmental Science. 465. 012047. 1-4.
Priyanti, A., Sartika, T., Priyono., Juliyanto, T. D., Bahri, S. dan Tiesnamurti, B. 2016. Kajian Ekonomik dan Pengembangan Inovasi Ayam Kampung Unggul Balitbangtan (KUB). Pusat Penelitian dan Pengembangan Peternakan, Bogor
Pakaya, S. A., & Zainudin, S. (2019). Performa Ayam Kampung Super Yang Di Beri Level Penambahan Tepung Kulit Kakao (Theobroma Cacao, L.) Fermentasi Dalam Ransum. Jambura Journal of Animal Science, 1(2).
Rajulani, C. Bahri, S. & Zainudin, S. 2022. Performans ayam Kampung Unggul Balitnak (KUB) Yang diberi ampas tahu fermentasi menggunakan Microbacter alfaafa-11. Gorontalo Journal of Equatorial Animals. Volume 1 No 2.
Standar Nasional Indonesia (SNI) 7783.2. 2 : 2013. Pakan Ayam Buras Grower (Native Chick Grower). Badan Standar Nasional Indonesia. Jakarta.
Sartika T, Desmayati, Iskandar S, Resnawati, H, Setioko AR, Sumanto, Sinurat AP, Isbandi, Tiesnamurti B, Romjali E. 2013. Ayam KUB-1. Jakarta (Indonesia): IAARD Press.
Urfa, S., H. Indrijani, dan W. Tanwiriah. 2017. Model Kurva Pertumbuhan Ayam Kampung Unggul Balitnak (KUB) Umur 0-12 Minggu. Tesis. Program Pascasarjana Fakultas Peternakan Universitas Padjajaran. Jatinagor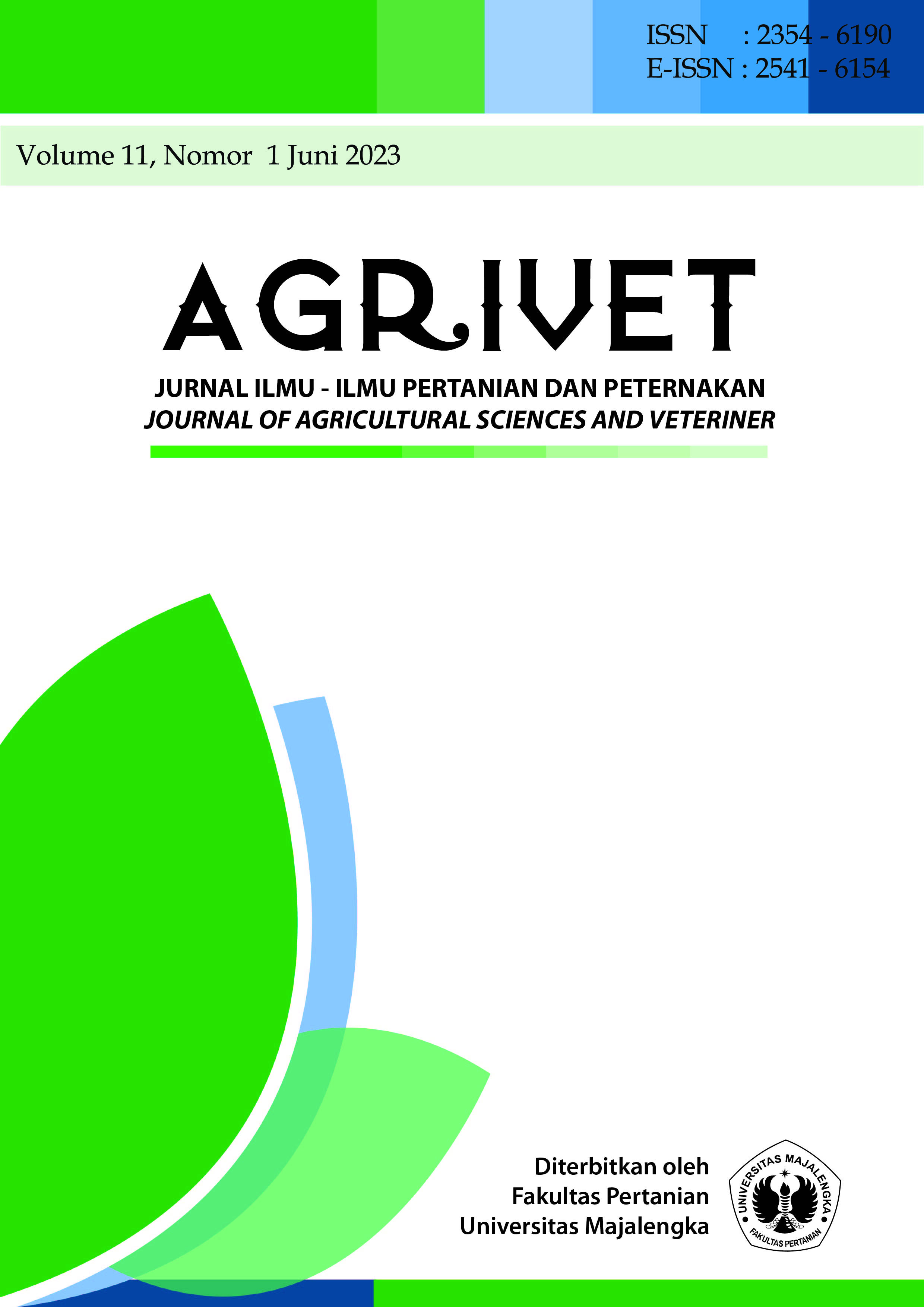 Downloads
How to Cite
Emy Saelan, Sulasmi, Sri Utami, & Muhammad Ade Salim. (2023). Performa Ayam Kampung Unggul Balitnak (KUB) dengan penambahan dedak fermentasi dalam ransum. Agrivet : Jurnal Ilmu-Ilmu Pertanian Dan Peternakan (Journal of Agricultural Sciences and Veteriner), 11(1), 7–12. https://doi.org/10.31949/agrivet.v11i1.5224
License
Copyright (c) 2023 Emy Saelan, Sulasmi, Sri Utami, Ade Salim
This work is licensed under a Creative Commons Attribution-ShareAlike 4.0 International License.
An author who publishes in the Jurnal Agrivet agrees to the following terms:
Author retains the copyright and grants the journal the right of first publication of the work simultaneously licensed under the Creative Commons Attribution-ShareAlike 4.0 License that allows others to share the work with an acknowledgment of the work's authorship and initial publication in this journal
The author is able to enter into separate, additional contractual arrangements for the non-exclusive distribution of the journal's published version of the work (e.g., post it to an institutional repository or publish it in a book) with the acknowledgment of its initial publication in this journal.
The author is permitted and encouraged to post his/her work online (e.g., in institutional repositories or on their website) prior to and during the submission process, as it can lead to productive exchanges, as well as earlier and greater citation of the published work