UJI KUALITAS PAKAN KOMPLIT BERBASIS HIJAUAN SORGUM-INDIGOFERA UNTUK INDUK DOMBA PROLIFIK
Keywords:
sorgum-indigofera, induk domba prolifik, kandungan nutrien, nilai kecernaan
Abstract
Penelitian ini bertujuan untuk mengevaluasi kualitas dan nilai kecernaan pakan komplit berbasis hijauan sorgum dan indigofera sebagai pengganti rumput lapangan untuk induk domba prolifik. Penelitian dilakukan secara eksperimental di laboratorium melalui uji proksimat dan in vitro. Tiga komposisi pakan percobaan yaitu SI1 (60% silase hijauan Sorgum + 30% hay hijauan Indigofera + 10% dedak padi); SI2 (50% silase hijauan Sorgum + 40% Hay hijauan Indigofera + 10% dedak padi); SI3 (40% silase hijauan Sorgum + 50% Hay hijauan Indigofera + 10% dedak padi); dan RL (100% rumput lapangan) sebagai kontrol. Peubah yang diamati yaitu nilai kandungan nutrien dan kecernaan pakan. Data hasil uji proksimat yang diperoleh dianalisis dan diterjemahkan secara deskriptif dan dibandingkan berdasarkan acuan standar pakan untuk induk domba bunting dan menyusui dengan potensi kelahiran kembar dari NRC-Canada. Sedangkan, data nilai kecernaan dianalisis dengan uji ANOVA dan diuji lanjut dengan uji jarak berganda Duncan. Hasil penelitian menunjukan bahwa kandungan nutrien pakan SI secara keseluruhan dapat mengimbangi RL. Bahkan, kandungan protein kasar dan energi bruto pakan SI lebih tinggi dari RL sesuai jumlah hay indigofera yang diberikan dalam ransum. Nilai kecernaan pakan SI lebih tinggi (p<0,05) dari RL, dan semua pakan yang diujikan memiliki kandungan nutrien lebih tinggi dari standar NRC. Dapat disimpulkan bahwa pakan komplit berbasis hijauan sorgum dan indigofera (SI) memiliki kualitas yang lebih tinggi dari rumput lapangan dan rekomendasi NRC untuk induk domba prolifik serta dapat dijadikan sebagai pensubstitusi rumput lapangan. Selain itu, komposisi pakan komplit SI1 (60% silase hijauan sorgum + 30% hay indigofera + 10% dedak halus) merupakan pakan komplit ideal untuk induk domba garut prolifik.
Downloads
Download data is not yet available.
References
ABDULLAH L. 2014. Prospektif agronomi dan ekofisiologi Indigofera zollingeriana sebagai tanaman penghasil hijauan pakan berkualitas tinggi. Pastura J Trop Forage Sci. 3(2):79–83. doi:10.24843/Pastura.2014.v03.i02.p06.
ABDULLAH L, APRIASTUTI D, APDINI TAP. 2012. Use of Indigofera zollingeriana as a forage protein source in dairy goat rations. Di dalam: Proc. Asia dairy Goat Conference Malaysia. hlm 71–72.
AGUSTONO B, MA'RUF A, LAMID M, PURNAMA MTE. 2017. Identification of Agricultural and Plantation Byproducts as Inconventional Feed Nutrition in Banyuwangi. J Med Vet. 1(1):12–22. https://www.researchgate.net/publication/322095385.
ANGGORODI. 1985. Ilmu Makanan Ternak Umum. Ed ke-3. Jakarta: PT. Gramedia. http://permimalang.wordpress.com/2007/12/12/aspergillus-niger/.
AOAC. 2005. Official Methods of Analysis of AOAC International.
BAPPEDA KABUPATEN MAJALENGKA. 2014. Kondisi Geografis Kabupaten Majalengka. Di dalam: Data Sektoral Kabupaten Majalengka. Majalengka: Bappeda Kabupaten Majalengka. hlm 1–9.
BATAN. 2014. Deskripsi sorgum samurai 1. Jakarta. http://benihbatan.blogspot.co.id/search/label/Deskripsi Varietas.
BUTLER WR. 2000. Nutritional interactions with reproductive performance in dairy cattle. Di dalam: Animal Reproduction Science. Volume ke-60–61.
DE CASTRO FAB, DE AZAMBUJA RIBEIRO EL, MIZUBUTI IY, DA SILVA LDDF, DE FREITAS BARBOSA MAA, MARSON B, GRANDIS FA, JUNIOR FF, PEREIRA ES. 2013. Dietary energy in late pregnancy and during lactation and performance of Santa Inês sheep in an accelerated mating system. Semin Ciências Agrárias. 34(6):4187–4202. doi:10.5433/1679-0359.2013v34n6Supl2p4187.
DISKIN MG, MORRIS DG. 2008. Embryonic and Early Foetal Losses in Cattle and Other Ruminants. Reprod Domest Anim. 43 SUPPL.2. doi:10.1111/j.1439-0531.2008.01171.x.
FORCADA F, ABECIA JA. 2006. The effect of nutrition on the seasonality of reproduction in ewes. Di dalam: Reproduction Nutrition Development. Volume ke-46.
HESS B, LAKE S, SCHOLLJEGERDES E, WESTON T, NAYIGIHUGU V, MOSS G. 2005. Nutritional controls of beef cow reproduction. J Anim Sci. 83 suppl_13. doi:10.2527/2005.8313_supplE90x.
JAYANEGARA A. 2012. Pengetahuan Bahan Makanan Ternak. Bogor: CV Nutri Sejahtera. http://anuragaja.staff.ipb.ac.id/files/2012/04/Buku-PBMT.pdf.
KHOTIJAH L, WIRYAWAN KG, SETIADI MA, ASTUTI DA. 2015. Reproductive performance, cholesterol and progesterone status of garut ewes fed ration containing different levels of sun flower oil. Pakistan J Nutr. 14(7):388–391. doi:10.3923/pjn.2015.388.391.
KURNIAWAN W, SYAMSUDDIN S, SALID WL, ISNAINI PD. 2019. Evaluasi Kualitas, Karakteristik Fermentasi dan Kecernaan In Vitro Silase Campuran Sorgum Stay Green-Gliricidia sepium dengan Penambahan Berbagai Level Asam Laktat. J Agripet. 19(2):99–106. doi:10.17969/agripet.v19i2.14857.
NATIONAL RESEARCH COUNCIL. 1985. Nutrient Requirements of Sheep. Washington, D.C. https://books.google.co.id/books?hl=id&lr=&id=hcbPz4AfdoEC&oi=fnd&pg=PR1&dq=Nutrient+Requirements+of+Sheep&ots=v59imKP3Uo&sig=NO7QwroUCAFpF0UwC254PPEdpCw&redir_esc=y#v=onepage&q=Nutrient Requirements of Sheep&f=false.
PALUPI RIZKI, ABDULLAH L, ASTUTI DAS. 2014. Potential and utilization of Indigofera sp shoot leaf meal as soybean meal substitution in laying hen diets. J Ilmu Ternak dan Vet. 19(3):210–219. doi:10.14334/jitv.v19i3.1084.
PALUPI R, ABDULLAH L, D A A, SUMIATI. 2014. Potensi dan pemanfaatan tepung pucuk Indigofera sp . sebagai bahan pakan substitusi bungkil kedelai dalam ransum ayam petelur. J Ilmu Ternak dan Vet. 19(3):210–219.
PURNOMOHADI M. 2006. Potensi Penggunaan Beberapa Varietas Sorgum Manis (Sorghum bicolor (L. Moench) Sebagai Tanaman Pakan. J Hayati. 12:41–44.
SCARAMUZZI RJ, CAMPBELL BK, DOWNING JA, KENDALL NR, KHALID M, MUÑOZ-GUTIÉRREZ M, SOMCHIT A. 2006. A review of the effects of supplementary nutrition in the ewe on the concentrations of reproductive and metabolic hormones and the mechanisms that regulate folliculogenesis and ovulation rate. Reprod Nutr Dev. 46(4):339–354. doi:10.1051/rnd:2006016.
SOMANJAYA R, RAHMAH UIL, DANI U. 2016. Performa dan Daya Cerna Domba Garut Jantan Terhadap Penambahan Fermentasi Limbah Hijauan Sorgum Ke Dalam Ransum. CR J. 02(02):147–162.
SUHARLINA S, ASTUTI DA, NAHROWI N, JAYANEGARA A, ABDULLAH L. 2016. In Vitro Evaluation of Concentrate Feed Containing Indigofera zollingeriana in Goat. J Indones Trop Anim Agric. 41(4):196–203. doi:10.14710/jitaa.41.4.196-203.
TELLENG M, WIRYAWAN KG, KARTI PDMH, PERMANA IG, ABDULLAH L. 2017. Silage quality of rations based on in situ sorghum-indigofera. Pakistan J Nutr. 16(3):168–174. doi:10.3923/pjn.2017.168.174.
TILLMAN AD, HARTADI H, REKSOHADIPRODJO S, PRAWIROKUSUMO S, LEBDOSOEKOJO S. 1991. Ilmu Makanan Ternak Dasar. Ed ke-5. Tillman AD, editor. Yogyakarta: Gadjah Mada University Press.
TUR İ, DÍNÇ DA, SEMACAN A. 2017. Protein based flushing related blood urea nitrogen effects on ovarian response, embryo recovery and embryo quality in superovulated ewes. Theriogenology. 98:62–67. doi:10.1016/j.theriogenology.2017.05.002.
WINA E, SUSANA IWR. 2013. Manfaat lemak terproteksi untuk meningkatkan produksi dan reproduksi ternak ruminansia. J War. 23(4):176–184. https://core.ac.uk/download/pdf/236128227.pdf.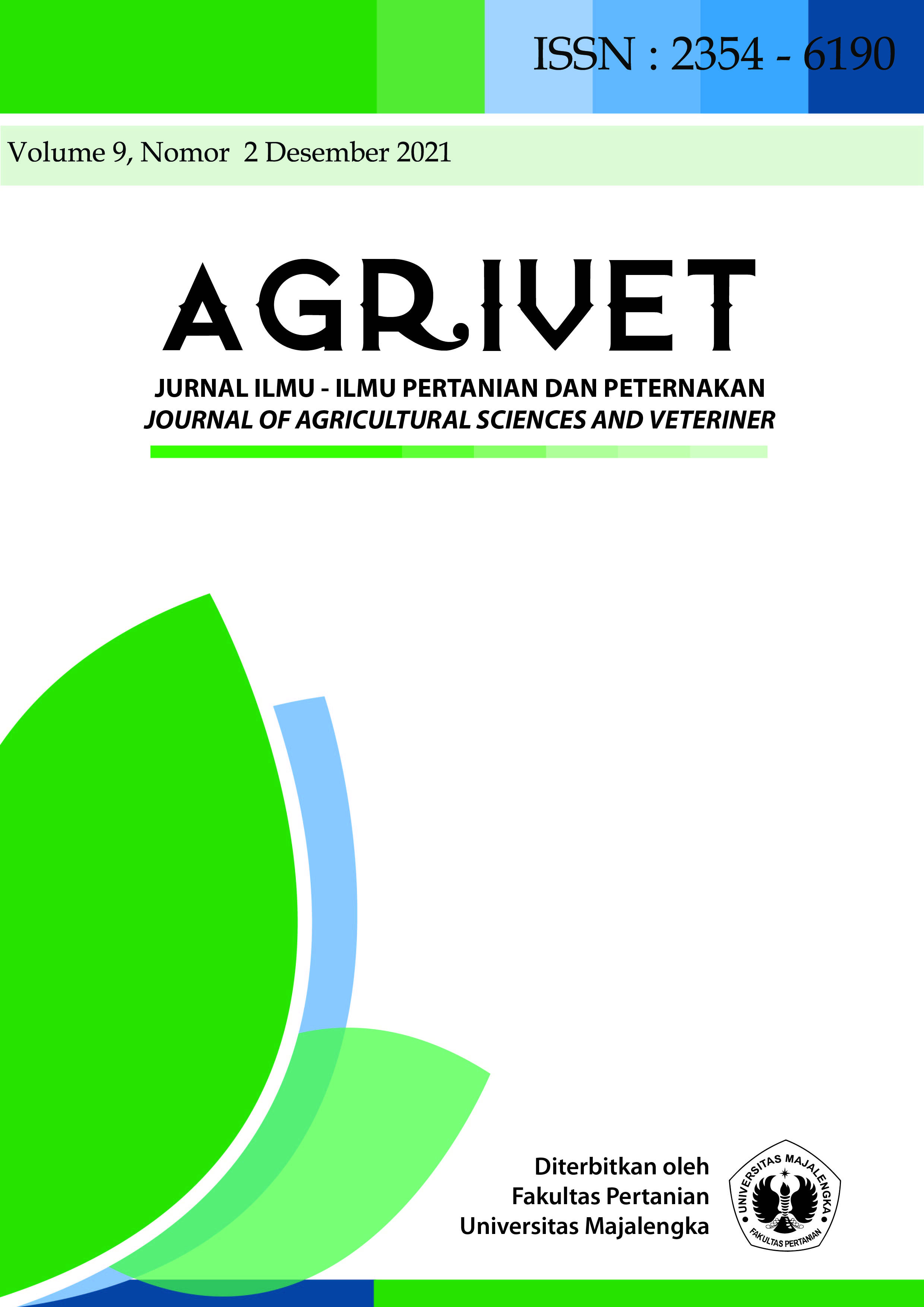 Downloads
How to Cite
Somanjaya, R., & Falahudin, A. (2021). UJI KUALITAS PAKAN KOMPLIT BERBASIS HIJAUAN SORGUM-INDIGOFERA UNTUK INDUK DOMBA PROLIFIK. Agrivet : Jurnal Ilmu-Ilmu Pertanian Dan Peternakan (Journal of Agricultural Sciences and Veteriner), 9(2), 148–157. https://doi.org/10.31949/agrivet.v9i2.1761
License
An author who publishes in the Jurnal Agrivet agrees to the following terms:
Author retains the copyright and grants the journal the right of first publication of the work simultaneously licensed under the Creative Commons Attribution-ShareAlike 4.0 License that allows others to share the work with an acknowledgment of the work's authorship and initial publication in this journal
The author is able to enter into separate, additional contractual arrangements for the non-exclusive distribution of the journal's published version of the work (e.g., post it to an institutional repository or publish it in a book) with the acknowledgment of its initial publication in this journal.
The author is permitted and encouraged to post his/her work online (e.g., in institutional repositories or on their website) prior to and during the submission process, as it can lead to productive exchanges, as well as earlier and greater citation of the published work