EVALUASI PERKANDANGAN KAMBING PERAH LAKTASI DI PETERNAKAN ALAM FARM MANGLAYANG KECAMATAN CILENGKRANG KABUPATEN BANDUNG
Keywords:
manajemen, perkandangan, kambing perah, alam farm manglayang
Abstract
Kandang merupakan tempat tinggal untuk hewan yang dapat memberikan rasa nyaman bebas dari  gangguan luar. Kandang yang baik memiliki ukuran yang sesuai serta bagian-bagian dalam kandang  seperti ventilasi. Apabila kandang tidak sesuai dengan kebutuhan dari ternak itu sendiri maka dapat  menyebabkan stress sehingga akan berdampak kepada performa produksi susunya. Penelitian bertujuan untuk mengevaluasi ukuran-ukuran kandang kambing perah laktasi  yang  meliputi panjang, lebar, tinggi serta tinggi dari permukaan tanah. Kegiatan penelitian dilakukan di Peternakan Kambing Perah Alam Farm Manglayang Kecamatan Cilengkrang Kabupaten Bandung  Jawa Barat. Penelitian menggunakan analisis deskriptif kuantitatif . Data sampel diperoleh dari 30  kandang kambing perah yang sedang laktasi.  Hasil penelitian menunjukkan bahwa ukuran kandang kambing perah di Peternakan Kambing Perah Alam Farm menghasilkan rata-rata pada setiap kandang besar (A) 140,4 x 102 x181,5 cm, kandang (B) 121,6 x 105,5 x 170 cm, Kandang (C) 142 x101x175 cm, Kandang D 122x100x170 cm dengan rataan tinggi kandang dari permukaan tanah 73-81 cm sehingga koefisien variasi berkisar antara 0,000174-0,000467 dan masih dalam keadaan normal. Kesimpulan menunjukkan bahwa  perkandangan kambing perah laktasi  yang terdapat di Peternakan kambing perah Alam Farm Manglayang  masih dalam kondisi yang  relatif  normal dan persyaratan kandang lainnya memenuhi standar.
Downloads
Download data is not yet available.
References
Badriyah A, Siswanto, Erwanto, Qisthon A. 2018. Pengaruh Manipulasi Suhu Kandang terhadap Kadar Glukosa dan Urea dalam Darah Pada Kambing Boer Dan Peranakan Ettawa (PE). Jurnal Riset dan Inovasi Peternakan. 3 (2) : 39-44.
Christi, R.F., D. Suharwanto., dan E. Yuniarti. 2021. Karakteristik Kandungan Kimia Kolostrum Kambing Sapera dan Saanen Di Sumedang Jawa Barat. Jurnal Ilmu Pertanian dan Peternakan 9 (1) : 96-101 Fakultas Pertanian Universitas Majalengka.
Guntur, M.,A. Tohardi., dan Y.Rohayeti. Morfometri Kambing Kacang (Capra aegagrus) Di Desa Rasau Jaya III Kecamatan Rasau Jaya Kabupaten Kubu Raya Provinsi Kalimantan Barat. Fakultas Pertanian Universitas Tanjungpura Pontianak Kalimantan Barat.
Hamdan, A., B.P. Purwanto, D.A. Astuti, A. Atabany, dan E. Taufik. 2018. Respons kinerja produksi dan fisiologis kambing peranakan ettawa terhadap pemberian pakan tambahan dedak halus pada agroekosistem lahan kering di Kalimantan Selatan. Pengkajian dan Pengembangan Teknologi Pertanian 12(1) : 73--84
Kementerian Pertanian. 2014. Lampiran Peraturan Menteri Pertanian Republik Indonesia Nomor: 64/Permentan/OT.140/5/2014 tentang Pedoman Budidaya Kambing Perah yang Baik.
Koluman, N and I. Daskiran. 2011. Effects of ventilation of the sheep house on heat stress,growth
and thyroid hormones of lambs. Journal Tropical Animal Health Production 43:1123--1127.

Mabjeesh, S.J., C. Sabastian, O. Gal-Garber, dan A. Shamay. 2013. Effect of photoperiod and heat
stress in the third trimester of gestation on milk production and circulating hormones in dairy
goats. Journal Of Dairy Science. 96 : 189–197.

Nagy DW, Pugh DG. 2012. Handling and Examining Sheep and Goats. Second Edition. Edited by DG Pugh and AN Baird. Missouri (US): Saunders, an imprint of Elsevier Inc.
Seixas, L., C.B. de Melo, C.B. Tanure, V. Peripolli, and C. Mc.Manus. 2017. Heat tolerance in Brazilian hair sheep. AsianAustralasian J. Anim. Sci. 30(4): 593-601.
Sitepu, S.A dan J. Marisa. 2020. Manajemen Usaha Ternak Perah Kambing Peranakan Etawa. Penerbit Mitra Cendekia Media Solok Sumatera Barat.
Thakare, P.D., A.R. Sirothia, and A.R. Sawarkar. 2017. Heat tolerance ability and its variability in different breeds of goat with reference to pulse rate. Int. J. Current Innovation Research 3(9): 805-806.
Verwandy. 2020. Ukuran Kandang Kambing yang Ideal. Laporan Penyuluh Pertanian Muda pada DISBUNNAK PROV. SULTENG.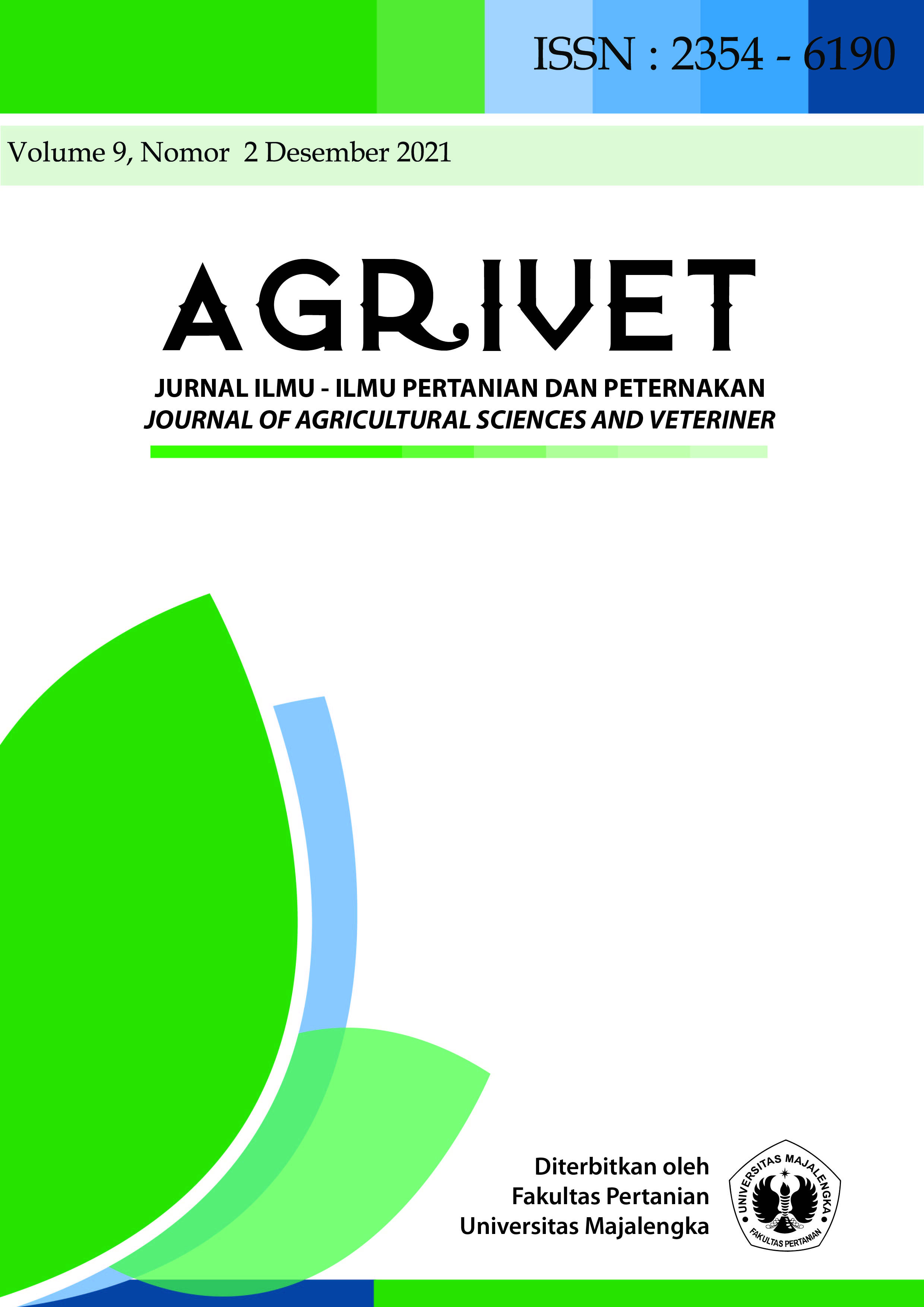 Downloads
How to Cite
Christi, R. F. ., Salman, L. B., Hermawan, & Sudrajat, A. . (2021). EVALUASI PERKANDANGAN KAMBING PERAH LAKTASI DI PETERNAKAN ALAM FARM MANGLAYANG KECAMATAN CILENGKRANG KABUPATEN BANDUNG . Agrivet : Jurnal Ilmu-Ilmu Pertanian Dan Peternakan (Journal of Agricultural Sciences and Veteriner), 9(2), 131–135. https://doi.org/10.31949/agrivet.v9i2.1758
License
An author who publishes in the Jurnal Agrivet agrees to the following terms:
Author retains the copyright and grants the journal the right of first publication of the work simultaneously licensed under the Creative Commons Attribution-ShareAlike 4.0 License that allows others to share the work with an acknowledgment of the work's authorship and initial publication in this journal
The author is able to enter into separate, additional contractual arrangements for the non-exclusive distribution of the journal's published version of the work (e.g., post it to an institutional repository or publish it in a book) with the acknowledgment of its initial publication in this journal.
The author is permitted and encouraged to post his/her work online (e.g., in institutional repositories or on their website) prior to and during the submission process, as it can lead to productive exchanges, as well as earlier and greater citation of the published work