ANALISIS PENDAPATAN USAHATANI DAN EFISIENSI PEMASARAN JAMUR MERANG (Volvariella volvacea) DI KABUPATEN KARAWANG
Keywords:
jamur merang, pendapatan, saluran pemasaran, efisiensi pemasaran
Abstract
Jamur merang merupakan salah satu komoditas unggulan yang ada di Kabupaten Karawang. Pertumbuhan konsumsi jamur selalu meningkat setiap tahunnya. Permintaan per hari mencapai 4-10 ton, sementara penawarannya hanya berkisar 4-7 ton. Dengan demikian, komoditas ini sangat potensial untuk meningkatkan pendapatan pelaku agribisnis jamur merang. Penelitian ini bertujuan untuk menganalisis pendapatan yang diterima petani, pola saluran pemasaran dan efisiensi pemasaran jamur merang di Kabupaten Karawang. Metode penelitian yang digunakan adalah metode deskriptif dengan teknik penelitian survei. Data yang digunakan adalah data primer dan sekunder. Sampel ditentukan dengan cara non probabilistik dengan entry point adalah pelaku usaha utama (petani jamur), kemudian dilakukan penelusuran ke depan dan ke belakang (forward and backward) dengan menggunakan snowball sampling untuk mendapatkan sampel pada titik berikutnya. Metode Analisis yang digunakan adalah analaisis pendapatan, marjin pemasaran, keuntungan, farmer share dan efisiensi pemasaran. Hasil penelitian menunjukkan bahwa terdapat 6 pola saluran pemasaran jamur merang. Pelaku yang terlibat terdiri dari petani, bandar, pedagang besar, pengecer dan konsumen. Hasil analisis usahatani jamur merang menunjukkan bahwa nilai R/C sebesar 1,98. Nilai R/C >1 menunjukkan bahwa usaha yang dilakukan oleh petani jamur merang layak untuk diusahakan. Ditinjau dari marjin pemasaran, keuntungan, farmers's share, efisensi pemasaran, semua saluran pemasaran dikategorikan efisien.
Downloads
Download data is not yet available.
References
Abdel-Mawgoud, M., Khedr, F. G., & Mohammed, E. I. (2019). Phenolic Compounds, Antioxidant and Antibacterial Activities of Rhus flexicaulis Baker. In Jordan Journal of Biological Sciences (Vol. 12, Issue 1).
Al-Ghamdi, A. Y., Fadlelmula, A. A., & Abdalla, M. O. M. (2020). Total Phenolic Content, Antioxidant and Antimicrobial Activity of Ruta chalepensis L. Leaf Extract in Al-Baha Area, Saudi Arabia. In Jordan Journal of Biological Sciences (Vol. 13).
Ashraf, S. A., Elkhalifa, A. E. O., Siddiqui, A. J., Patel, M., Awadelkareem, A. M., Snoussi, M., Snoussi, M., Ashraf, M. S., Adnan, M., & Hadi, S. (2020). Cordycepin for Health and Wellbeing: A Potent Bioactive Metabolite of an Entomopathogenic Medicinal Fungus Cordyceps with Its Nutraceutical and Therapeutic Potential. Molecules, 25(12). https://doi.org/10.3390/molecules25122735
Badan Ketahanan Pangan. (2019). Statistik Ketahanan Pangan 2018. Badan Ketahanan Pangan Kementerian Pertanian.
BPS Kabupaten Karawang. (2018). Kabupaten Karawang Dalam Angka 2018. BPS Kabupaten Karawang.
BPS Provinsi Jawa Barat. (2018). Provinsi Jawa Barat Dalam Angka 2018. BPS Provinsi Jawa Barat, 721. https://jabar.bps.go.id/publication/2018/08/16/d8b96de222796402938666e4/provinsi-jawa-barat-dalam-angka-2018.html
Downey, W. . dan S. P. E. (1992). Manajemen Agribisnis. Erlangga.
Fauziah, F. R., & Soejono, D. (2019). Analisis Pendapatan Usahatani Jamur Merang dan Kontribusinya Terhadap Pendaatan Rumah Tangga Petani di Kelurahan Sempusari Kecmatan Kaliwates Kabupaten Jember. SEPA: Jurnal Sosial Ekonomi Pertanian Dan Agribisnis, 15(2), 172. https://doi.org/10.20961/sepa.v15i2.26492
Fontes, A., Alemany-Pagès, M., Oliveira, P. J., Ramalho-Santos, J., Zischka, H., & Azul, A. M. (2019). Antioxidant versus pro-apoptotic effects of mushroom-enriched diets on mitochondria in liver disease. In International Journal of Molecular Sciences (Vol. 20, Issue 16). MDPI AG. https://doi.org/10.3390/ijms20163987
Grimm, D., & Wösten, H. A. B. (2018). Mushroom cultivation in the circular economy. In Applied Microbiology and Biotechnology (Vol. 102, Issue 18, pp. 7795–7803). Springer Verlag. https://doi.org/10.1007/s00253-018-9226-8
Hanafi, R. (2010). Pengantar Ekonomi Pertanian. ANDI.
Irianto, H., & Widiyanti, E. (2012). Analysis of Value Chain and Marketing Efficiency Mushroom Agribusiness in Karanganyar District. Sepa, 9(2), 260–272.
Kora, A. J. (2020). Nutritional and antioxidant significance of selenium-enriched mushrooms. Bulletin of the National Research Centre, 44(1). https://doi.org/10.1186/s42269-020-00289-w
Melani, S. S., Sulistyowati, L., & Luciana, T. (2021). SUMBER RISIKO DAN MITIGASI RISIKO JAMUR MERANG ( Volvariella volvaceae ) DI KECAMATAN JATISARI KABUPATEN KARAWANG SOURCES OF RISK AND RISK MITIGATION OF MERANG MUSHROOM ( Volvariella volvaceae ) IN JATISARI DISTRICT , KARAWANG REGENCY Siti Sarah Melani *,. 7(2), 1756–1769.
Munawar, F. R., & Kartika, J. G. (2017). Produksi dan Kualitas Jamur Merang (Volvariella volvaceae) pada Kelompok Tani "Mitra Usaha" Kabupaten Karawang. Bul. Agrohorti, 5(264–273). https://journal.ipb.ac.id/index.php/bulagron/article/view/16807/12243
Pop, R. M., Puia, I. C., Puia, A., Chedea, V. S., Leopold, N., Bocsan, I. C., & Buzoianu, A. D. (2018). Characterization of Trametes versicolor: Medicinal mushroom with important health benefits. Notulae Botanicae Horti Agrobotanici Cluj-Napoca, 46(2), 343–349. https://doi.org/10.15835/nbha46211132
Riduwan, M., Hariyono, D., Nawawi, M., Budidaya, J., & Pertanian, P. F. (2013). PERTUMBUHAN DAN HASIL JAMUR MERANG (Volvariella volvacea) PADA BERBAGAI SISTEM PENEBARAN BIBIT DAN KETEBALAN MEDIA. Jurnal Produksi Tanaman, 1(1), 70–79. https://media.neliti.com/media/publications/125744-ID-pertumbuhan-dan-hasil-jamur-merang-volva.pdf
Rosmawati, H. (2011). Analisis Efisiensi Pemasaran Pisang Produksi Petani di Kecamatan Lengkiti Kabupaten Ogan Komering Ulu. Agronobis, 3(5), 1–9.
Soekartawi. (2005). Prinsip Dasar -Hasil Pertanian Teori dan Aplikasinya. Grafindo Persada.
Sukirno, S. (2002). Pengantar Teori Mikroekonomi. PT. Raja Grafindo Persada.
Wahyu Andayani. (2007). Analisis Efisiensi Pemasaran Kacang Mete (Cashew Nuts) Di Kabupaten Wonogiri. Akta Agrosia, 7(1). http://katalog.pustaka.unand.ac.id//index.php?p=show_detail&id=90084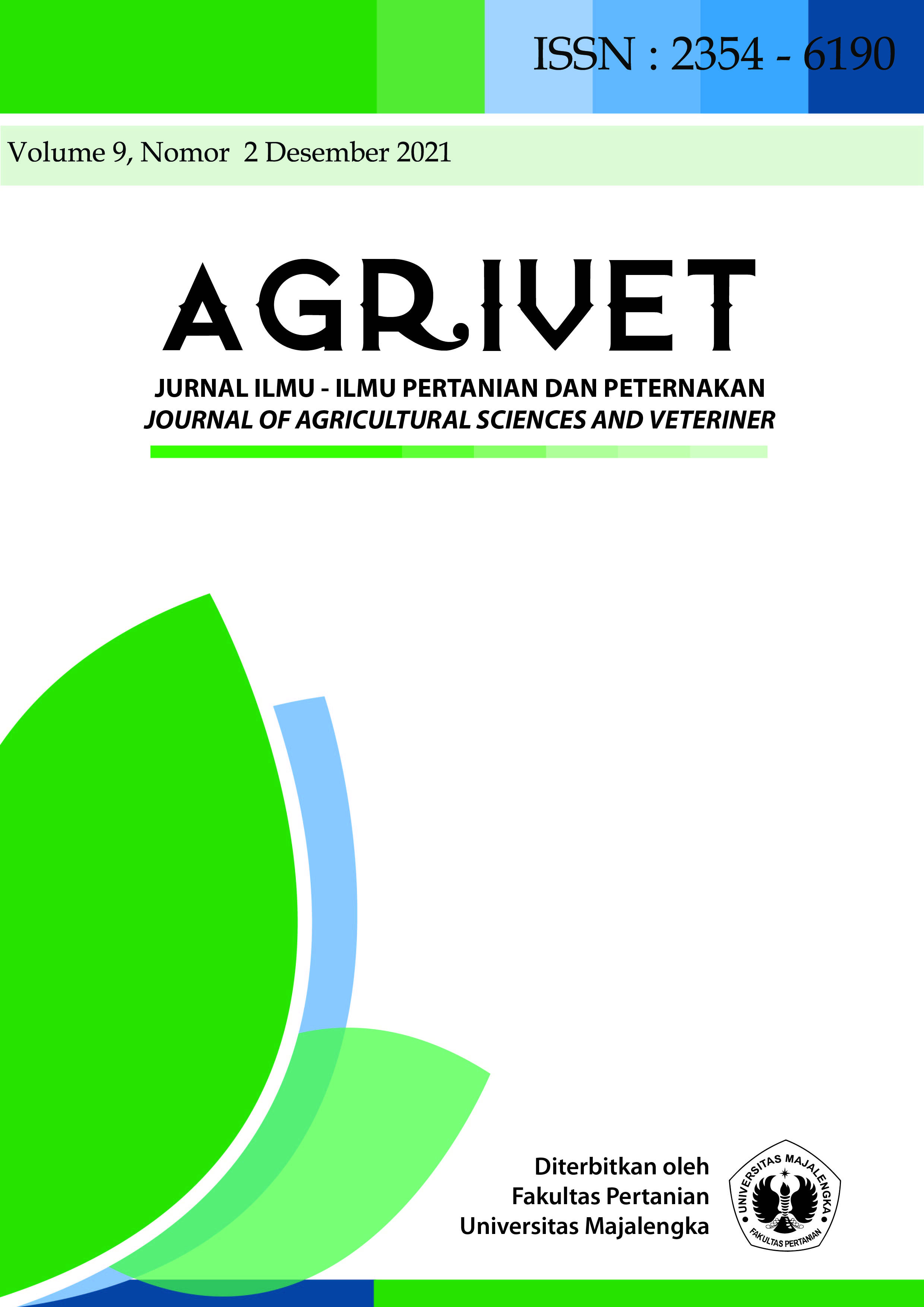 Copyright (c) 2021 Suhaeni
This work is licensed under a Creative Commons Attribution-ShareAlike 4.0 International License.
An author who publishes in the Jurnal Agrivet agrees to the following terms:
Author retains the copyright and grants the journal the right of first publication of the work simultaneously licensed under the Creative Commons Attribution-ShareAlike 4.0 License that allows others to share the work with an acknowledgment of the work's authorship and initial publication in this journal
The author is able to enter into separate, additional contractual arrangements for the non-exclusive distribution of the journal's published version of the work (e.g., post it to an institutional repository or publish it in a book) with the acknowledgment of its initial publication in this journal.
The author is permitted and encouraged to post his/her work online (e.g., in institutional repositories or on their website) prior to and during the submission process, as it can lead to productive exchanges, as well as earlier and greater citation of the published work