TESTING THE EFFECTIVENESS OF ORGANIC ACIDS AS A PRESERVATIVE OF ANIMAL FEED INGREDIENTS
Keywords:
Keyword : Propionic acid, lauric acid, sorbic acid, pollard, wheat bran
Abstract
This research was conducted in the Laboratory of Feed Industry Technology, Faculty of Animal Husbandry, Bogor Agricultural University, Bogor. The purpose of this study was to determine the effectiveness of using organic acids as preservatives in feed ingredients in the form of pollard and wheat bran based on physical parameters. This study used a completely randomized design with 2 factorials in the form of feed type and organic acid type with 3 replications, samples were stored for 6 weeks and then data were collected in the form of moisture content, pile angle, pile density and specific gravity. The results showed that organic acids affected the moisture content but had no effect on pile density, pile angle and specific gravity. The type of feed affects the value of moisture content, pile angle, pile density and specific gravity. Based on the results of the effectiveness index test, it is known that the total yield value on pollard with 1% lauric acid is 0.64, sorbic acid is 0.35 and propionic acid is 0.77, while wheat bran with lauric acid is 1.07 at -1 sorbic acid. .39 and in propionic acid 2.64. The conclusion of this research is that propionic acid can be used as a preservative for pollard and wheat bran
Downloads
Download data is not yet available.
References
AOAC. 2012. Official Menthod of Analysis. Arlington (US): The Association Of Official Analytical Of Chemist.
De Garmo, E.P., W.G. Sullivan., dan C.R. Candra. 1984. Engineering Economi.7th edition. Mc Millan Publ. Co. New York.
Irawan. H. 2006. Karakteristik sifat fisik jagung, dedak padi dan pollard. [Skripsi]. Ilmu nutrisi dan makanan ternak. Fakultas peternakan. Institut pertanian bogor. Bogor.
Jaelani A, Dharmawati S, dan Wacahyono. 2016. Pengaruh Tumpukan Dan Lama Masa Simpan Pakan Pellet Terhadap Kualitas Fisik. Ziraa'ah, vol 41 no 2 hal 261-268
Julaeha S. 2020. Evaluasi wafer konsentrat dengan taraf wheat bran dan lama pemanasan yang berbeda. [Skripsi]. Ilmu nutrisi dan teknologi pangan. Fakultas peternakan. Institut pertanian bogor. Bogor.
Khalil. 1999. Pengaruh Kandungan Air Dan Ukuran Partikel Terhadap Sifat Fisik Pakan Lokal, Kerapatan Tumpukan Pemadatan Tumpukan, Dan Berat Jenis. Media Peternakan. 22(1):1-11.
Nilasari. 2012. Pengaruh penggunaan tepung ubi jalar garut dan onggok terhadap sifat fisik dan lama penyimpanan ayam broiler bentuk pellet. [Skripsi]. Institut Pertanian Bogor. Bogor.
Nosal E. Reinprecht L. 2019. Anti-bacterial and anti-mold efficiency of silver nanoparticles present in melamine laminated particleboard surfaces. Bioresources.vol 1: 1-13
Patty PV. 2015. Pengaruh lama fermentasi terhadap ranciditas minyak kelapa yang diproduksi secara tradisional. Biopendix 1: 137-142. DOI: 10.30598/biopendixvol1issue2page146-152.
Syahri M. Retnani Y. Khotijah L. 2018. Evaluasi penambahan binder berbeda terhadap kualitas fisik mineral wafer. Bulletin makanan ternak. Vol 1: 1-7
Su'i. M. Sumaryati E. Prasetyo R. 2015. Anti-bacteria activities of lauric acid from coconut endosperm (Hydolysed using lipase endogenous). Advances in environmental biology. Vol 9: 45-49
Sukasih E. Setyadjit. 2016. Formulasi antifungal kombinasi dari ekstrak limbah mangga dengan pengawet makanan komesial untuk preservasi buah manga. Jurnal penelitian pascapanen pertanian. Vol 14: 22-34.
Syamsu JA, Yusuf M, Abdullah A. 2015. Evaluation Of Physical Properties Of Feedstuffs In Supporting The Development Of Feed Mill At Farmers Group Scale. Journal Advan Agri. Tech.2 (2): 147-150
Utama Cs, Zupizal, Hanim C, Wihandoyo. 2019. Pengaruh lama pemanasan terhadap kualitas kimia wheat pollard yang berpotensi sebagai prebiotik. Jurnal Aplikasi Teknologi Pangan 8: 113-122. DOI: 10.17728/jatp.5262
Wahyuni, L.P.E., Widjaja, I.N.K., dan Astuti, N.M.W., 2017. Analisis Kualitatif Asam Oleat Pada Minyak Kelapa Sub Varietas Genjah. Skripsi. Bali. Jurusan Farmasi Fakultas Matematika Dan Ilmu Pengatahuan Alam. Universitas Udayana.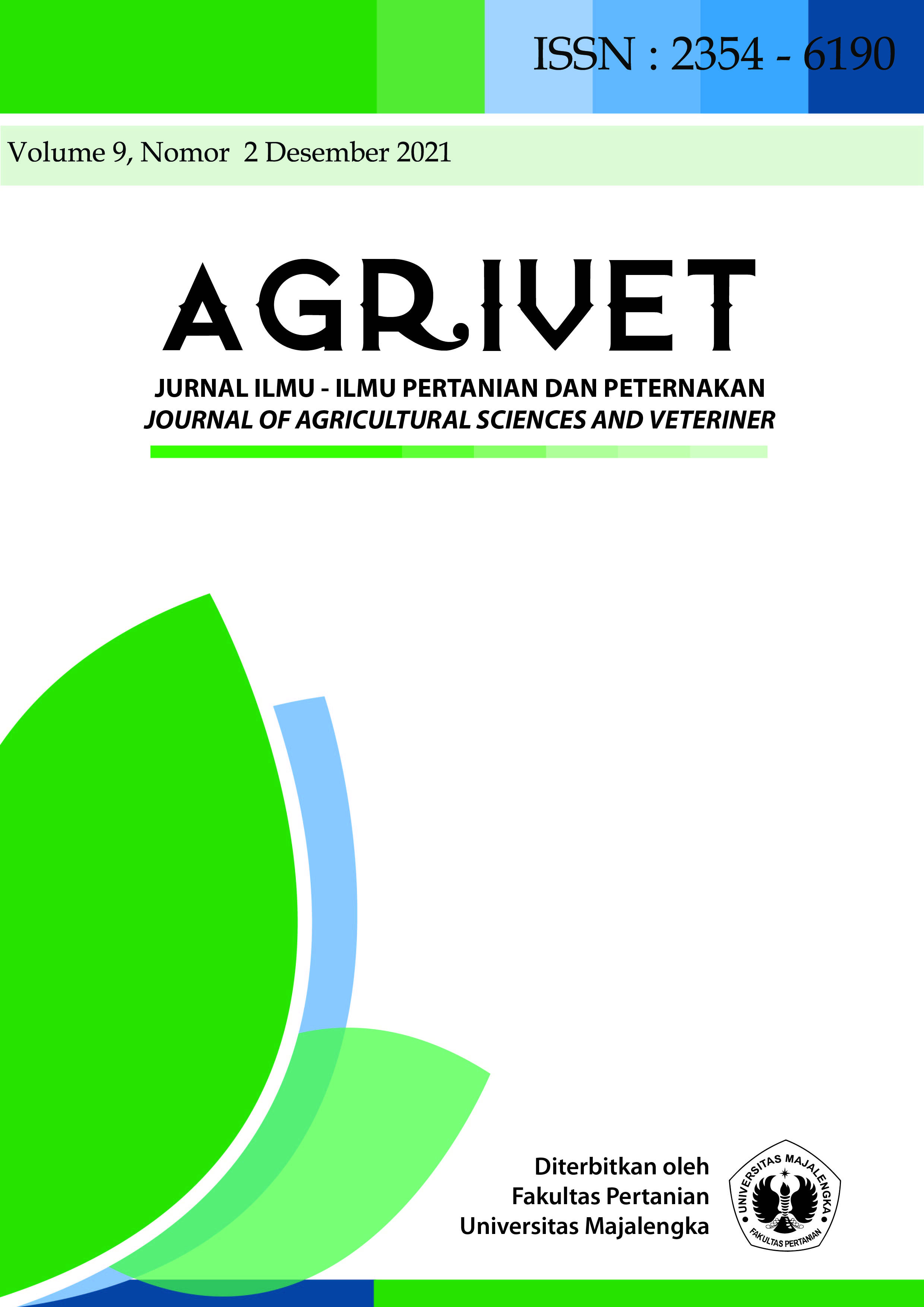 Downloads
How to Cite
Adisti, R., Indah, W., & Yuli, R. . (2021). TESTING THE EFFECTIVENESS OF ORGANIC ACIDS AS A PRESERVATIVE OF ANIMAL FEED INGREDIENTS. Agrivet : Jurnal Ilmu-Ilmu Pertanian Dan Peternakan (Journal of Agricultural Sciences and Veteriner), 9(2), 102–111. https://doi.org/10.31949/agrivet.v9i2.1524
License
An author who publishes in the Jurnal Agrivet agrees to the following terms:
Author retains the copyright and grants the journal the right of first publication of the work simultaneously licensed under the Creative Commons Attribution-ShareAlike 4.0 License that allows others to share the work with an acknowledgment of the work's authorship and initial publication in this journal
The author is able to enter into separate, additional contractual arrangements for the non-exclusive distribution of the journal's published version of the work (e.g., post it to an institutional repository or publish it in a book) with the acknowledgment of its initial publication in this journal.
The author is permitted and encouraged to post his/her work online (e.g., in institutional repositories or on their website) prior to and during the submission process, as it can lead to productive exchanges, as well as earlier and greater citation of the published work