ALOKASI WAKTU DAN PENDAPATAN PETANI DALAM KEGIATAN KELOMPOK WANITA TANI SELAKASO DI KELURAHAN CIBEUREUM, KECAMATAN LEMBURSITU, KABUPATEN SUKABUMI
Keywords:
Alokasi Waktu, Kelompok Wanita Tani, Pendapatan Petani
Abstract
The Selakaso Women Farmers Group is a forum that provides opportunities for women to participate in advancing the agricultural sector. The Women Farmers Group has three roles, namely as a vehicle for learning, a vehicle for cooperation and production which is implemented by KWT Selakaso in counseling activities, gymnastics and production units. This study aims to determine the impact of farmers' time allocation in the activities of the Selakaso Women's Farmer Group on farmers' income. This study uses an explanatory method and a quantitative approach. Based on the results of the analysis that has been carried out in this study, it was found that the income of farmers from KWT Selakaso was significantly influenced by the time allocation of farmers in extension activities and the allocation of farmers' time in production activities. But it is not significantly affected by the time allocation in gymnastics or collaboration activities. So it is necessary to increase the time allocation by establishing partnerships between farmer groups and outside parties.
Downloads
Download data is not yet available.
References
ATMA, RAS. 2013. Pemberdayaan Masyarakat Sebagai Upaya Pengentasan Kemiskinan. Socius. Vol. XIV.
BADAN PUSAT STATISTIK INDONESIA. 2020. tahun 2020. Berita Resmi Statistik: Badan Pusat Statistik.
BADAN PUSAT STATISTIK SUKABUMI. 2017. Sukabumi dalam angka tahun 2017. Sukabumi: Badan Pusat Statistik.
HANDAYANI, TH. M dan NI WAYAN PUTU ARTINI. 2009. Kontribusi Pendapatan Ibu Rumah Tangga Pembuat Makanan Olahan Terhadap Pendapatan Keluarga. Vol. V No 1.
HERNALIUS, AMANDA LIDWINA, SUMARDJO dan HAMZAH. 2018. Pengaruh Penyuluhan Pertanian Terhadap Tingkat Produktivitas Padi Sawah di Desa Bojongsari Kecamatan Jampang Kulon Kabupaten Sukabumi. Jurnal Sains Komunikasi dan Pengembangan Masyarakat. Vol. 2 No. 3.
HUTABARAT, J. S, A. A. SAJOW, S. O. B. LOMBOGIA dan Z. W. WAROUW. 2021. Pengaruh Penyuluhan Terhadap Pendapatan Peternak Babi di Desa Kiawa Dua Timur Kecamatan Kawnagkoan Utara. Vol. 41 No. 1.
MACHMUDAH, LUTHFIANA, SRIROSO SATMOKO dan DYAH MARDININGSIH. 2019. Analisis Faktor-Faktor Sosial Yang Mempengaruhi Keberhasilan Kelompok Tani Hortikultura di Kelompok Wanita Tani Legowo Dusun Kemranggen Kebupaten Wonosobo. Jurnal sosial ekonomi pertanian. Vol. 13 No. 2.
MUSYAROPAH, BADRIYATUL. 2018. Peran Kelompok Wanita Tani Bougenville Dalam Meningkatkan Ekonomi Keluarga. Institusi Agama Islma Negeri. Metro Lampung.
NORFAHMI, FEMMI, NUNUNG KUSNADI, RITA NURMALIA dan RATNA WINANDI. 2017. Analisis Curahan Waktu Kerja Rumah Tangga Petani Pada Usahatani Padi dan Dampaknya Terhadap Pendapatan Keluarga. Informatika Pertanian. Vol. 26 No. 1.
PERATURAN MENTERI PERTANIAN No.67/permentan/SM.050/12/2016.
PRASOJO, E. 2003. People and society enpowerment: perspektif membangun partisipsi publik.
RACHMANIA, DIANA DAN RENTIKA PERWIDITASARI. 2017. Pengaruh Terapi Sekandi (Senam Kamar Mandi) Pada Kebugaran Jasmani Pada Individu Usia Produktif. Journal of Nursing And Biomolecular. Vol. 2 No. 1.
SUDALMI, SRI ENDANG. 2010. Pembangunan Pertanian Berkelanjutan. Jurnal Inovasi Pertanian. Vol. 9 No. 2.
SYARIF, ASRIYANTI. 2018. Pemberdayaan Perempuan Menghadapi Modernisasi Pertanian Melalui Kelompok Wanita Tani (KWT) Pada Usahatani Sayuran di Kecamatan Bissapu Kabupaten Bantaeng. Vol. 43 No 1.
TARIGAN, NAMIA AGINA. 2018. Peran Kelompok Tani Dalam Meningkatkan Usahatani Padi Sawah (Oriza Sativa) [skripsi]. Medan. Fakultas Pertanian. Universitas Sumatera Utara.
WULANDARI, DWI RISKA. 2016. Alokasi Waktu Kerja Rumha Tangga Buruh Tani Perkebunan Tebu dan Variabel Social Ekonomi Yang Mempengaruhi (Studi Pada Desa Sukosari, Kecamatan. Gongdonglegi. Kabupaten Malang). Universitas Brawijaya Malang. Malang.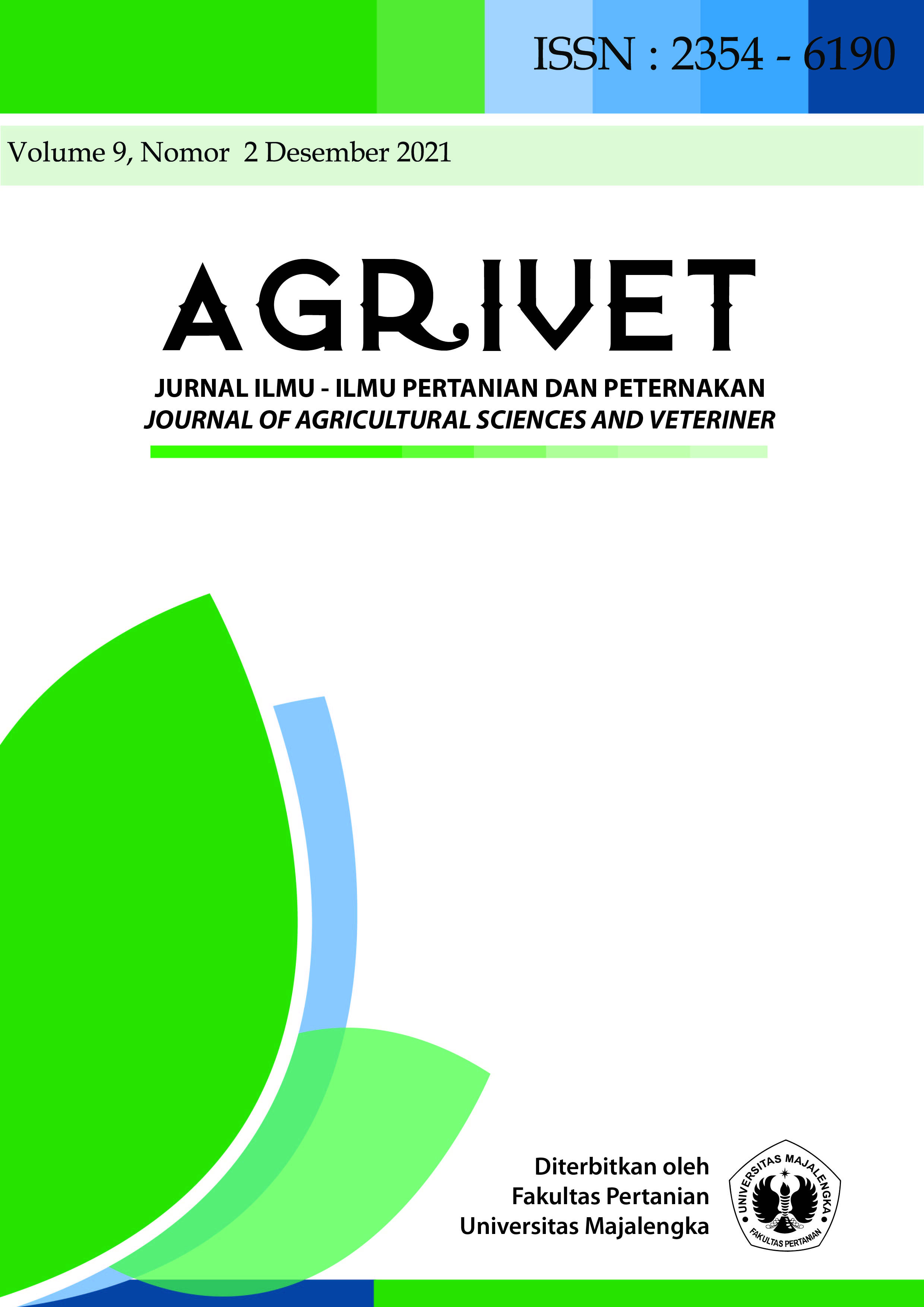 Downloads
How to Cite
munggaran, E. N., Endang Tri Astutiningsih, & Reny Sukmawani. (2021). ALOKASI WAKTU DAN PENDAPATAN PETANI DALAM KEGIATAN KELOMPOK WANITA TANI SELAKASO DI KELURAHAN CIBEUREUM, KECAMATAN LEMBURSITU, KABUPATEN SUKABUMI. Agrivet : Jurnal Ilmu-Ilmu Pertanian Dan Peternakan (Journal of Agricultural Sciences and Veteriner), 9(2), 140–147. https://doi.org/10.31949/agrivet.v9i2.1400
License
An author who publishes in the Jurnal Agrivet agrees to the following terms:
Author retains the copyright and grants the journal the right of first publication of the work simultaneously licensed under the Creative Commons Attribution-ShareAlike 4.0 License that allows others to share the work with an acknowledgment of the work's authorship and initial publication in this journal
The author is able to enter into separate, additional contractual arrangements for the non-exclusive distribution of the journal's published version of the work (e.g., post it to an institutional repository or publish it in a book) with the acknowledgment of its initial publication in this journal.
The author is permitted and encouraged to post his/her work online (e.g., in institutional repositories or on their website) prior to and during the submission process, as it can lead to productive exchanges, as well as earlier and greater citation of the published work