DAMPAK COVID-19 TERHADAP PENURUNAN VOLUME PENJUALAN DAN PENDAPATAN PEDAGANG DAGING AYAM BROILER (THE IMPACT OF COVID-19 ON THE DECLINE OF SALES VOLUME AND INCOME OF BROILER MEAT TRADERS)
Keywords:
Revenue, Sales Volume, Covid-19
Abstract
The Covid-19 pandemic has had a socio-economic impact in Indonesia, including broiler meat traders. Since the enactment of large-scale restrictions has triggered a lack of community activity outside, resulting in a decrease in sales volume and income at the Tipar Gede Warehouse Market, Sukabumi City. This study aims to determine the impact of COVID-19 on the decline in sales volume and income of broiler meat traders at the Tipar Gede Warehouse Market, Sukabumi City. This research was carried out using descriptive research with survey method research methods by describing the conditions or phenomena that occurred. From the research carried out, it was found that the impact of Covid-19 on sales volume before Covid-19 could be represented by 65%, while during Covid-19 there was a 35% decrease in sales volume and the impact of Covid-19 on the decline in income of broiler meat traders in Indonesia. The Tipar Gede Warehouse Market in Sukanumi City before Covid-19 was 60%, while during Covid-19 it was around 40%.
Downloads
Download data is not yet available.
References
Armelia, Vonny, dkk. 2020. Dampak Sosial Ekonomi Covid-19 Terhadap Usaha
Peternakan Broiler Di Indonesia. Unniversitas Jendral Soedirman.
Badan Pusat Statistik. 2020. Pertumbuhan Ekonomi Indonesia Triwulan IV-2019
No.17/20/Th.XXIV. 5 Maret 2020.
Budastra. I. K. 2020. Dampak Soosial Ekonomi Covid-19 dan Program Potensial Untuk
Penanganannya. Studi Kasus di Kabupaten Lombok Barat. Agrimansion.
Consumer New and Bussines Channel Indonesia (CNBB Indonesia). 2020.
Skenario Sangat Berat: Ekonomi RI Bakal Minus 0,4%.
https://www.cncbindonesia.com/news/20200519092335-4 159432/skenario-sangat-berat-ekonomi-ri-bakal-minus-04, diakses pada 20 Juni 2020.
Daryono. 2011. Manajemen Pemasaran.
Bandung: CV. Yrama Widya
Sutrisno, E. 2019. Manajemen Sumber Daya Manusia. Edisi Pertama.
Jakarta: Kencana Prenada Media Group.
KEMENKES RI. 2011. Pedoman Pelaksanaan Jaminan Kesehatan Masyarakat.
Jakarta: Kemenkes.
Kompas. 2020. "WHO Tetapkan Wabah Virus Corona Sebagai Pandemi Global."
Kompas, 2020.
Kurniawansyah, H, dkk. 2020. Konsep kebijakan Strategi Dalam Menangani
Eksternalitas Ekonomi Dari Covid-19 Pada Masyarakat Rentan di
Indonesia. Indonesia Journal of Social Sciences and Humanities.
McKibbin, Fernando R. 2020. The Global Macroeconomic Imfacts Of Covid-19: Seven
Scenarios. Canbera (AU): Center For Aplplied Macroeconimic Analysis, the
Australian Nasional University.
Olaniyi and Evas. 2020. Socioecconomi ImpactsOf Novel Corronavirus: The Policy
Solutions, BizEcons Quartely, Strides Educational Foundation. Vol. 7. 3
12.
Pakpahan, A. K. 2020. Covid-19 dan Implikasi Bagi Usaha Mikro Kecil dan Menengah.
Jurnal Ilmiah Hubungan Internasional.
Septia, S.M.Nababan. 2013. Pendapatan dan Jumlah Tanggungan PengaruhnyaTerhadap
Pola Konsumsi PNS Dosen dan Tenaga Kependidikan Pada Fakultas Ekonomidan
Bisnis Universitas Sam Ratulangi manado. Jurnal Embe.
Siche, R. 2020. What Is the impact Of Covid-19 Disease On Agriculture Sci. Agropecuaria
[Internet]. Https://www.scielo.org.pe/scielo.php?pid=S2077
99172020000100003&script=sci-arttext
http://dx.doi.org/10.17268/sci.agropecu.2020.01.00 diakses pada 5 Agustus 2021.
Trobos Livestock Edisi 248. Edisi Mei 2020. Mencari Solusi di Tengah Pandemi
Ulya, H. 2016. Profil Kemampuan Pemecahan Masalah Siswa Bermotivasi Belajar Tinggi
Berdasarkan Ideal Problem Solving. Jurnal Konseling Gusjigang.
Yunianto,2020 .Katadata.co.id.https://katadata.co.id/ekarina/berita/5e9a41c88444
/penjualan-ayam-anjlok-40-imbas-corona-peternak-terancam-gulung-tikar.
Diakses pada 10 Juli 2021.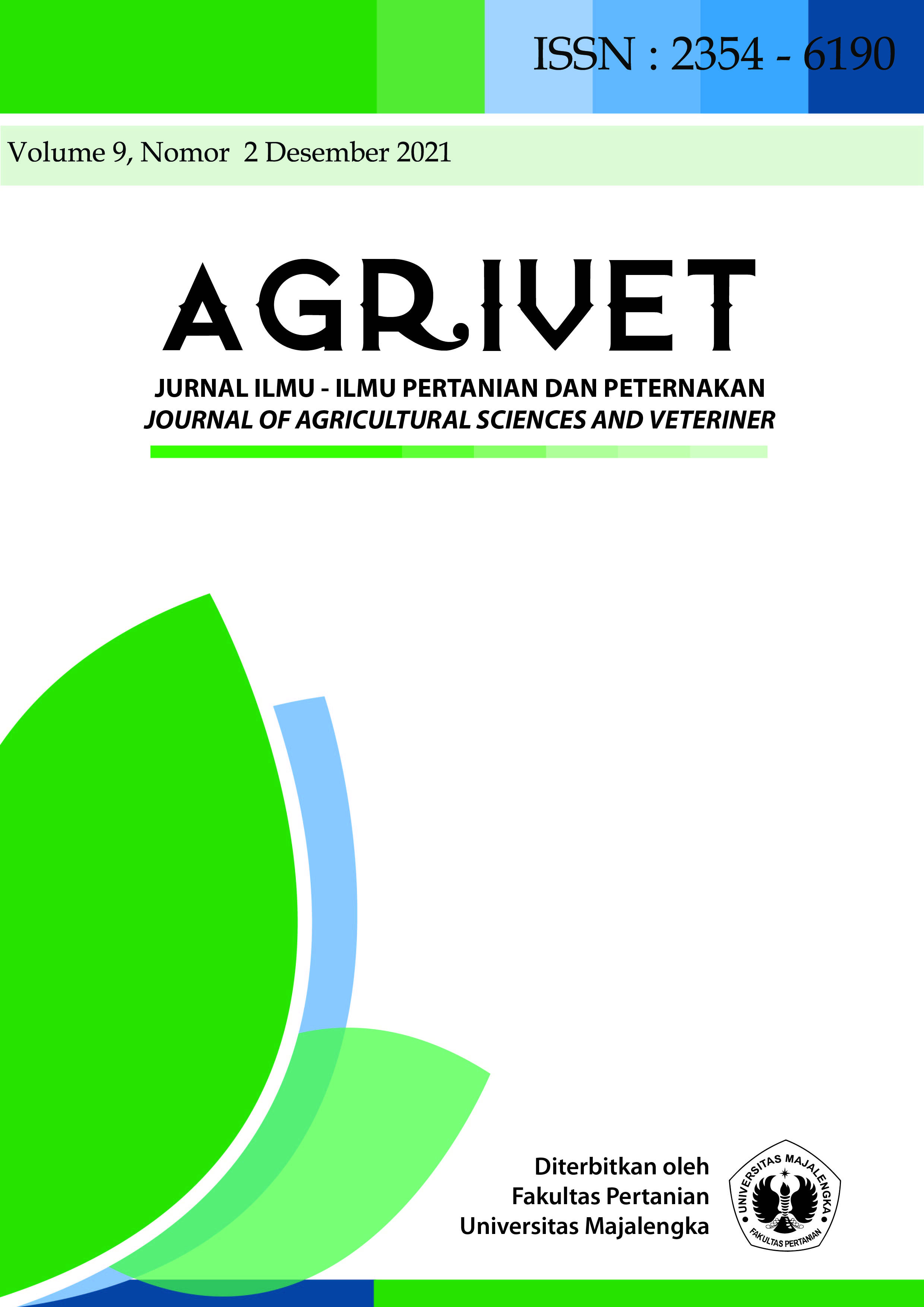 Downloads
How to Cite
Prayoga, N. R. ., Sukmawani, R., & Meilani, E. H. (2021). DAMPAK COVID-19 TERHADAP PENURUNAN VOLUME PENJUALAN DAN PENDAPATAN PEDAGANG DAGING AYAM BROILER (THE IMPACT OF COVID-19 ON THE DECLINE OF SALES VOLUME AND INCOME OF BROILER MEAT TRADERS). Agrivet : Jurnal Ilmu-Ilmu Pertanian Dan Peternakan (Journal of Agricultural Sciences and Veteriner), 9(2), 158–165. https://doi.org/10.31949/agrivet.v9i2.1359
License
An author who publishes in the Jurnal Agrivet agrees to the following terms:
Author retains the copyright and grants the journal the right of first publication of the work simultaneously licensed under the Creative Commons Attribution-ShareAlike 4.0 License that allows others to share the work with an acknowledgment of the work's authorship and initial publication in this journal
The author is able to enter into separate, additional contractual arrangements for the non-exclusive distribution of the journal's published version of the work (e.g., post it to an institutional repository or publish it in a book) with the acknowledgment of its initial publication in this journal.
The author is permitted and encouraged to post his/her work online (e.g., in institutional repositories or on their website) prior to and during the submission process, as it can lead to productive exchanges, as well as earlier and greater citation of the published work