Eksplorasi Etnomatematika pada Area Siti Inggil Keraton Kasepuhan Cirebon
Keywords:
Etnomatematika, Siti Inggil, Keraton Kasepuhan Cirebon
Abstract
Keraton Kasepuhan merupakan Keraton pertama yang berdiri di Cirebon. Disekitar komplek keraton terdapat banyak bangunan yang syarat memiliki nilai budaya yang tinggi, diantaranya yaitu komplek area Siti Inggil dan area utama Keraton Kasepuhan. Secara filosofis bangunan tersebut selain memiliki nilai budaya yang tinggi, jika di analisis mendalam ada keterkaitannya dengan konsep matematika terutama yaitu pada aspek geometri. Penelitian ini bertujuan untuk mendeskripsikan kajian yang mendalam mengenai bangunan bersejarah peninggalan keraton Kasepuhan Cirebon dan kaitannya dengan konsep matematis. Penelitian ini menggunakan metode kualitatif dengan pendekatan etnografi. Subjek penelitiannya adalah Budayawan yang ada di keraton Kasepuhan Cirebon. Teknik pengumpulan data dilakukan melalui observasi, wawancara dan dokumentasi. Hasil penelitian menunjukkan bahwa terdapat keterkaitan bangunan bersejarah keraton Kasepuhan dengan konsep matematika yaitu pada konsep bangun ruang seperti balok, kubus, limas, prisma, tabung, bola dan konsep kesejajaran garis.
Downloads
Download data is not yet available.
References
Arwanto. (2017). Eksplorasi Etnomatematika Batik Trusmi Cirebon untuk Mengungkap Nilai Filosofi dan Konsep Matematis. Phenomenon 7(1), 40-49.
Cunayah, C. (2011). Ringkasan dan Bank Soal Matematika untuk SMP/MTs. Bandung : Yrama Widya.
D'Ambrosio, U. (1985). Ethnomathematics and its place in the history and pedagogy of mathematics. For the Learning of Mathematics, 5(1), 44-48.
Fajriyah, E. (2018). Peran etnomatematika terkait konsep matematika dalam mendukung literasi. Prisma : Prosiding Seminar Nasional Matematika, 1, 114–119.
Hartono, Y., Prahmana, R. C., & Zulkardi. (2012). Learning multiplication using Indonesian traditional game in third grade. Journal on Mathematics Education, 3(2), 115-132.
Kholisa, F.N., (2021). Eksplorasi Etnomatematika terhadap Konsep Geometri pada Rumah Joglo Pati. Circle, 1(2), 89-108.
Nutriana, N.A.I. (2019). Efektivitas Pembelajaran Matematika Dengan Pendekatan Etnomatematika Terhadap Pemahaman Konsep Siswa SMP pada Materi Segiempat. Skripsi. Pendidikan Matematika Universitas Mercu Buana Yogyakarta. Yogyakarta.
Setiana, D.S., Ayuningtyas, A.D., Wijayanto, Z., & Kusumaningrum, B. (2021). Eksplorasi Etnomatematika di Museum Kereta Kraton Yogyakarta dan Pengintegrasiannya kedalam Pembelajaran Matematika. Ethnomathematics Journal, 2 (1), 1-10.
Setyaningtyas, Y. & Santoso, E.K. (2009). Suka Buku Bilingual Matematika SMP. Jakarta : Kendi Mas Media
Shanty, N. O. (2016). Investigating Students' Development of Learning Integer Concept and IntegerAddition. Journal on Mathematics Education, 7(2), 57-72.
Winarti, S. 2004. Sekilas Sejarah Keraton Surakarta. Surakarta: Cendrawasih.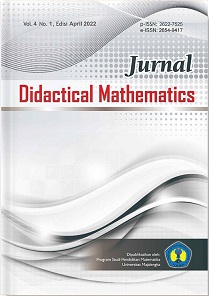 Downloads
How to Cite
Sudianto, S., & Santoso, E. (2022). Eksplorasi Etnomatematika pada Area Siti Inggil Keraton Kasepuhan Cirebon . Didactical Mathematics, 4(1), 273–282. https://doi.org/10.31949/dm.v4i1.2501
License
Copyright (c) 2022 Jurnal Didactical Mathematics
This work is licensed under a Creative Commons Attribution-ShareAlike 4.0 International License.