Analisis Dampak Study From Home Terhadap Pemahaman Konsep Matematika Siswa Sekolah Menengah Pertama
Abstract
Penelitian ini termotivasi dari hasil observasi awal di sekolah yang menunjukkan adanya dampak dari study from home terhadap kemampuan matematis siswa, khususnya terhadap pemahaman konsep matematika siswa pada materi persamaan garis lurus. Oleh karena itu, penelitian ini bertujuan untuk menganalisis dampak dari study from home. Dampak study from home yang diteliti difokuskan pada pemahaman konsep matematika siswa SMP kelas VIII di salah satu sekolah di Kabupaten Karawang. Pendekatan yang digunakan yaitu pendekatan kualitatif dengan metode survei. Teknik pengumpulan data melalui wawancara dilakukan agar hasil penelitian dapat dideskripsikan dengan jelas dan rinci. Hasil penelitian menunjukkan adanya dampak negatif yang dialami oleh siswa saat study from home. Dampak negatif ini tidak terlepas dari kendala saat pelaksanaan study from home, sehingga mengakibatkan kurangnya pemahaman siswa terhadap konsep matematika.
This study was motivated by the initial observation result at school, which showed the impact of study from home on students' mathematical competencies, especially students' understanding of the mathematical concept. Therefore, this study aims to analyze the impact of studying from home on understanding the mathematical concepts of junior high students of the VIII grade in Karawang. The approach used is a qualitative approach with a survey method. The data collection technique was conducted by interviews and addressed to describe and interpret the results clearly and elaborate. The results showed a negative impact undergone by students when studying from home. This negative impact can not be separated from the constraints during the study from home implementation, implying a lack of student understanding of the mathematical concept.
Downloads
Download data is not yet available.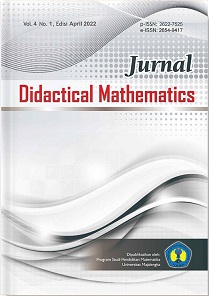 Downloads
How to Cite
Monica Theresia. (2022). Analisis Dampak Study From Home Terhadap Pemahaman Konsep Matematika Siswa Sekolah Menengah Pertama. Didactical Mathematics, 4(1), 191–199. https://doi.org/10.31949/dm.v4i1.2133