Analisis Kemampuan Pemahaman Matematis Siswa Kelas VIII SMP Negeri 2 Klari Materi Relasi dan Fungsi
Keywords:
Analysis, Mathematical Comprehension Ability, Relations and Functions
Abstract
The ability to understand mathematics is a form of ability that is mandatory and must be possessed by every student. This study aims to measure the level of mathematical understanding ability of junior high school students in Karawang Regency on the subject of Relations and Functions. This research is a qualitative research using descriptive method. The research subjects consisted of 30 grade VIII students of SMPN 2 Klari. The data collected in the form of the results of tests of mathematical understanding abilities and student interviews. The results of the analysis show that students' mathematical abilities are in the high, medium, and low categories. Meanwhile, the results of the interviews showed that there were still many students who had difficulty in solving questions. Students could not understand the concept and could not relate one concept to another and tended to memorize the formula. It is proven that students cannot apply formulas in simple calculations and do calculations algorithmically, making it difficult for students to solve these problems. To improve students' mathematical understanding skills who are classified as low, in conveying concepts, teachers should include examples of questions that lead to and relate to various mathematical concepts.
Downloads
Download data is not yet available.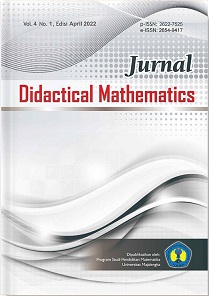 Downloads
How to Cite
Nugraha, C., & Haerudin. (2022). Analisis Kemampuan Pemahaman Matematis Siswa Kelas VIII SMP Negeri 2 Klari Materi Relasi dan Fungsi. Didactical Mathematics, 4(1), 163–169. https://doi.org/10.31949/dm.v4i1.2020