Analisis faktor-faktor yang mempengaruhi tingkat keberdayaan perempuan
Keywords:
empowering, SEM Analysis, women
Abstract
This study aims to analyze the factors that influence the level of women's empowerment. The method used is survey research with a quantitative verification approach. The research was conducted in Indramayu Regency, using the Multiple Stage Sampling technique. Five (5) sub-districts were taken from 31 sub-districts, and 20 respondents were randomly selected from each sub-district so that the total number was 100 women respondents. Individual characteristics, competence, and availability of information are exogenous variables while the endogenous variable is the level of women's power. Analysis using Structural Equation Modeling (SEM), with calculations assisted by Smart PLS 4 software. The validity test was carried out to see valid indicators based on the loading factor value > 0.5, the reliability test was carried out on the research variables, and the SEM model was obtained in iteration 2. The results showed that individual characteristic variables, competence, and information availability contributed 61% to women's empowerment level. Individual characteristics have a positive effect of 0.77 and are significant on the level of women's empowerment. Women's competence needs to be increased, as well as the availability of information so that women can play an active role and increase their involvement in the economy and development.
Downloads
Download data is not yet available.
References
Arifin, H. Z. (2017). Perubahan Perkembangan Perilaku Manusia karena Belajar. Sabilarrasyad, 2(1), 67.
Bonis-Profumo, G., Stacey, N., & Brimblecombe, J. (2021). Measuring women's empowerment in agriculture, food production, and child and maternal dietary diversity in Timor-Leste. Food Policy, 102, 102102. https://doi.org/10.1016/j.foodpol.2021.102102
Camiré, M., Kendellen, K., Rathwell, S., & Turgeon, S. (2020). Evaluating the Coaching for Life Skills online training program: A randomised controlled trial. Psychology of Sport and Exercise, 48(November 2019), 101649. https://doi.org/10.1016/j.psychsport.2020.101649
Chambers, R. (1995). Poverty and livelihoods: whose reality counts? Uner Kidrar dan Leonard Silk (eds), People : Form Impoverishment to Empowerment. Environment and Urbanization, 7(1), 173–204.
Danquah, M., Iddrisu, A. M., Boakye, E. O., & Owusu, S. (2021). Do gender wage differences within households influence women's empowerment and welfare? Evidence from Ghana. Journal of Economic Behavior and Organization, 188, 916–932. https://doi.org/10.1016/j.jebo.2021.06.014
Faiqoh, P., & Desmawati, L. (2019). Pemberdayaan Perempuan Melalui Home Industri Batik Sekar Jagad Di Dusun Tanuraksan Desa Gemeksekti Kabupaten Kebumen. Pendidikan Luar Sekolah Fakultas Ilmu Pendidikan Universitas Negeri Semarang, 22(1), 1–75.
Hemachandra, K., Amaratunga, D., & Haigh, R. (2020). Factors affecting the women's empowerment in disaster risk governance structure in Sri Lanka. International Journal of Disaster Risk Reduction, 51(November 2019), 101779. https://doi.org/10.1016/j.ijdrr.2020.101779
Kaspersen, M. H., Graungaard, D., Bouvin, N. O., Petersen, M. G., & Eriksson, E. (2021). Towards a model of progression in computational empowerment in education. International Journal of Child-Computer Interaction, 29, 100302. https://doi.org/10.1016/j.ijcci.2021.100302
Kazemi, R., Momeni, S., & Abolghasemi, A. (2014). The Effectiveness of Life Skill Training on Self-esteem and Communication Skills of Students with Dyscalculia. Procedia - Social and Behavioral Sciences, 114, 863–866. https://doi.org/10.1016/j.sbspro.2013.12.798
Kibukho, K. (2021). Mediating role of citizen empowerment in the relationship between participatory monitoring and evaluation and social sustainability. Evaluation and Program Planning, 85(November 2019). https://doi.org/10.1016/j.evalprogplan.2021.101911
Kumar, N., Raghunathan, K., Arrieta, A., Jilani, A., & Pandey, S. (2021). The power of the collective empowers women: Evidence from self-help groups in India. World Development, 146, 105579. https://doi.org/10.1016/j.worlddev.2021.105579
Munawar, N. (2011). Pemberdayaan Masyarakat. Jurnal Ilmiah CIVIS, I(2), 87–99.
Mwambi, M., Bijman, J., & Galie, A. (2021). The effect of membership in producer organizations on women's empowerment: Evidence from Kenya. Women's Studies International Forum, 87(May), 102492. https://doi.org/10.1016/j.wsif.2021.102492
Nur, S. (2019). Pemberdayaan Perempuan Untuk Kesetaraan & Meningkatkan Partisipasi Dalam Pembangunan Lingkungan Hidup. An-Nisa, 10(1), 99–111. https://doi.org/10.30863/annisa.v10i1.388
Onah, M. N. (2021). Women's empowerment and child nutrition in South-Central Asia; how important is socioeconomic status? SSM - Population Health, 13, 100718. https://doi.org/10.1016/j.ssmph.2020.100718
Singla, D. R., Waqas, A., Hamdani, S. U., Suleman, N., Zafar, S. W., Zill-e-Huma, Saeed, K., Servili, C., & Rahman, A. (2020). Implementation and effectiveness of adolescent life skills programs in low- and middle-income countries: A critical review and meta-analysis. Behaviour Research and Therapy, 130(April), 103402. https://doi.org/10.1016/j.brat.2019.04.010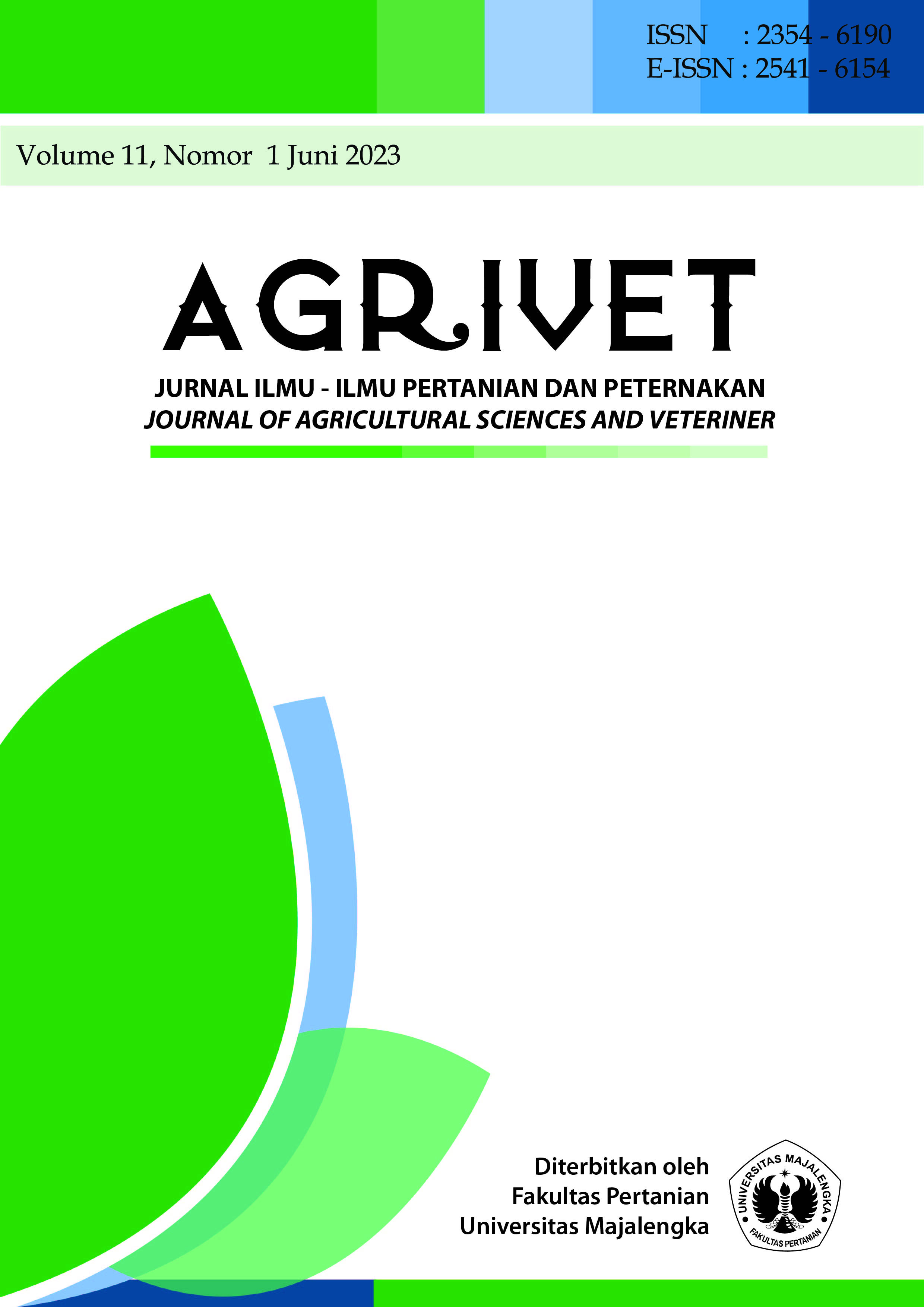 Downloads
How to Cite
Edang Juliana, Tuti Gantini, Nataliningsih, Elly Roos Maria, & Yuliana Samantha. (2023). Analisis faktor-faktor yang mempengaruhi tingkat keberdayaan perempuan. Agrivet : Jurnal Ilmu-Ilmu Pertanian Dan Peternakan (Journal of Agricultural Sciences and Veteriner), 11(1), 66–76. https://doi.org/10.31949/agrivet.v11i1.5184
License
Copyright (c) 2023 Edang Juliana Edang Juliana, Tuti Gantini, Nataliningsih, Elly Roos Maria, Yuliana Samantha
This work is licensed under a Creative Commons Attribution-ShareAlike 4.0 International License.
An author who publishes in the Jurnal Agrivet agrees to the following terms:
Author retains the copyright and grants the journal the right of first publication of the work simultaneously licensed under the Creative Commons Attribution-ShareAlike 4.0 License that allows others to share the work with an acknowledgment of the work's authorship and initial publication in this journal
The author is able to enter into separate, additional contractual arrangements for the non-exclusive distribution of the journal's published version of the work (e.g., post it to an institutional repository or publish it in a book) with the acknowledgment of its initial publication in this journal.
The author is permitted and encouraged to post his/her work online (e.g., in institutional repositories or on their website) prior to and during the submission process, as it can lead to productive exchanges, as well as earlier and greater citation of the published work